Very interesting article from CEO Today which gives some great hints and tips about buying an overseas property with comments and thoughts from Home Hunts
The pandemic encouraged many to reevaluate their lifestyle and housing options. According to Knight Frank, 33% of surveyed buyers are likely to buy a second home as a result of Covid-19, up from 26% in 2019. Of those, many are looking at overseas properties where they can work remotely, enjoy warmer climates all year round, and benefit from attractive rental returns.
If you too are looking for a new home overseas, we rounded up some guidance on approaching your search by two experts in their field, One Caribbean Estate founder Chris Parra, who specialises in buying and selling luxury properties around the Caribbean, and Tim Swannie, who founded Home Hunts, a buying agent with properties in France and Spain.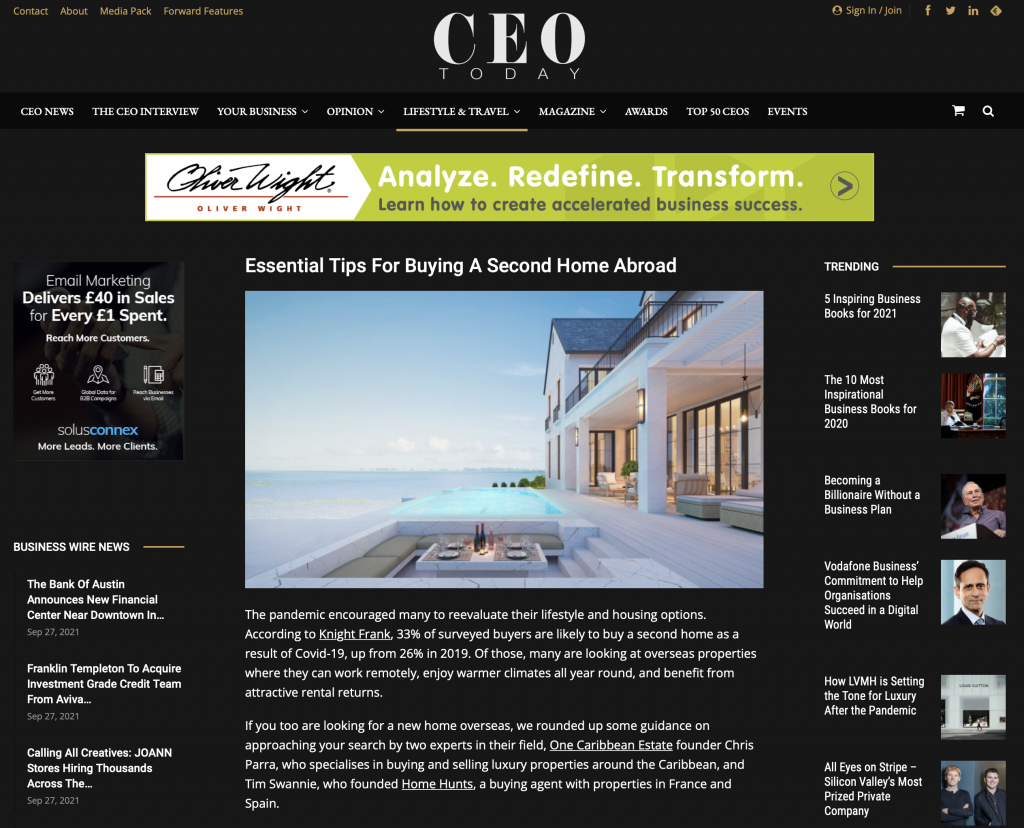 Identify a target location
You might already have a country or island in mind from previous visits or holidays. Thereafter, one of the classic dilemmas is choosing between the coast and countryside. To decide which is best for you and your family, think about your desired lifestyle and how much you will be using your property.
Parra says: "If you're only planning on spending a few weeks of the year in the Caribbean, and you will be mainly spending time relaxing on the beach, then I would go somewhere closer to the coast. However, if you are going to be there for 3 months plus each year, and want more of an active lifestyle, playing golf or exploring nature, then buying inland on an elevated plot will give you the benefit of cooling winds, more space and privacy. "
Keep in mind that if you plan to rent your property out, the location you pick can also affect your yearly rental income.
"You might want a holiday home by the beach, but whilst many seaside resorts are popular during the summer season, they can also be fairly quiet in winter," warns Swannie about European properties.
For a better rental return, consider buying in locations that attract tourists all year round. This includes towns and resorts in mountains such as the French Pyrenées and Alps, or locations with guaranteed sun all around like the Caribbean.
Make sure to visit – and off-season
You will be spending a lot of time in your area of choice, so it's very important that you familiarise yourself with it before buying to make sure that it's the right place for you. If possible, try to rent there for an extended period of time so you can experience it like a local.
While the weather might be good all year round in certain locations such as the Caribbean, try and avoid peak seasons to get a "true" feel of the area, especially if you plan to move permanently or to spend several months a year in your new home.
"I would suggest that May/June and Oct/Nov are good times to do a familiarisation visit in the Caribbean," Parra says. "It is less expensive in terms of accommodation than the peak Christmas/New Year winter season, and you will engage more with the locals. It's a good way to know all kinds of insider knowledge that you can only be privy to if you have lived in the area."
This is also true for European properties, Swannie says: "Make the most of Winter rental deals, because they can usually be found at lower prices, which means you can experience a location off-season for less, get a good idea whether the area would suit you all year round and have time to really explore the region."
Look for the property that is right for you
Beachfront properties and charming cottages might look great in photographs but they might not necessarily be practical. Make sure you have a list of your wants, needs and priorities to hand, and keep them in mind when prospecting. For example, if you have pets, a house might be more suitable than an apartment.
"We've all seen photographs of a dreamy farmhouse in rolling countryside, but it may not necessarily match your desired lifestyle," says Swannie. "For example, privacy does not have to mean being isolated–if you don't like driving for twenty minutes to reach the nearest shop, life might be less relaxed than you had imagined."
Again, if you plan on earning an income from your property, it's important to stay mindful of potential running costs and how they could affect your rental income.
"Most leisure resorts in the Caribbean offer wonderful facilities and amenities, and as such carry higher running costs for the advantages of living there," says Parra. "An independent apartment /condo near or close to the beach with access to a pool will be attractive to potential renters, and your outgoings will be less than a resort property."
Research your visa requirements
Depending on your nationality, there might be restrictions on how long you can stay in your property. Contact the embassy of the country you are targeting early on to determine your visa requirements and work out how you will be able to use your property.
Many countries offer visas for extended stays, allowing you to spend more time in your property. Barbados's 12-Month Welcome Stamp, for example, allows non-nationals to remotely work from the island for a foreign company for up to a year.
"The Welcome Stamp Visa has attracted a lot of new visitors and investors to our shores and invigorated the market," Parra says. "It is perfect for those that can work remotely and want to live in a warmer climate."
In Europe, British citizens do not need a visa if they stay in France for less than half a year, which means being there for 90 out of every 180 days. That means you can stay in France for approximately three months at a time before returning home for approximately three months. You might consider renting out your property when it's vacant to generate an income.
So, what's it to be? A beachfront property in Barbados, or a farmhouse in southwestern France?