The FT has published an article about the property market in Paris which explores the impact of the pandemic on property sales around the city. The online article is behind a paywall, but you can read it here also – FINANCIAL TIMES – PARIS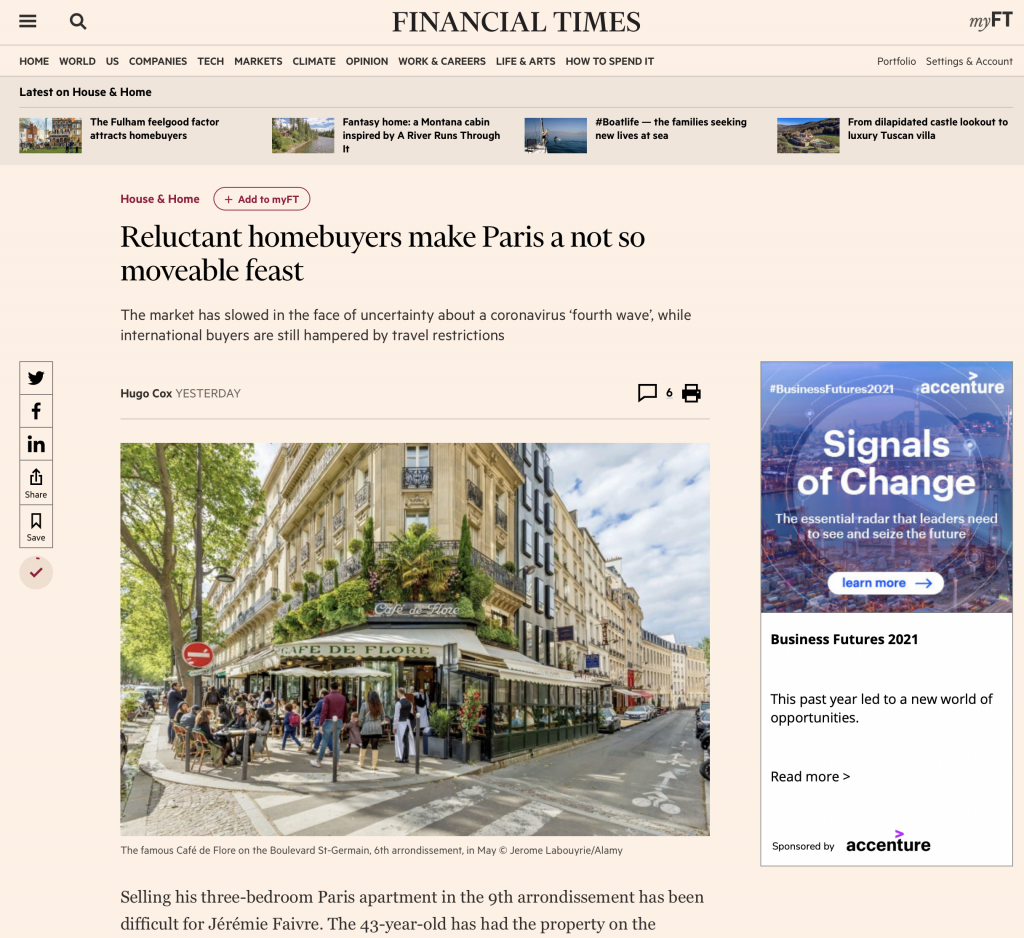 Paris will always be Paris… one of the most romantic and sought-after cities in the world. The property market in Paris has been extremely busy for many years and continues to be so, but like most cities, Covid has impacted the property market there to a certain extent. The article claims the market is 'slowing', but what does that mean?
Well, according to one agent, "Before we had 20 people to view an apartment, now it is four or five," he says. Where most homes typically sold within days at the start of the year, now most take one or two weeks; for studios it is typically three or more."   That certainly doesn't indicate a slow market to most people….
The truth is, mainly due to travel restrictions, it may not be quite as crazy as it was 18 months ago, but prices are still increasing in Paris and there are many more buyers than sellers. The international buyer's who travel to Paris currently are focussed, they know what they want and where they want it.
This article explores the market a little, the journalist speaks to agents and buyers from across the city including Home Hunts (of course!) and one of our clients, to find out more about who is buying, what they are buying and why –
Some of the quotes from Christine Tung of Home Hunts are here:
"At the higher end of the market, travel restrictions continue to limit buying by UK and US buyers. Christine Tung of the Paris office of Home Hunts, a top-end French agency specialising in sales to international buyers, sold one in five homes to US buyers before the start of the pandemic. Excepting homes that were viewed before Paris's first lockdown in March, US buyers have bought none since then, with German, Italians and Scandinavians the main buyers. "
The vogue for fully refurbished high-spec apartments aimed at international buyers dates from about six years ago, according to Tung. "You started to see developers buy flats in the best neighbourhoods and bring them up to those international standards to satisfy [these buyers'] very specific demands — en-suite bathrooms, walk-in closets, air conditioning, guest toilets, apartments fully furnished."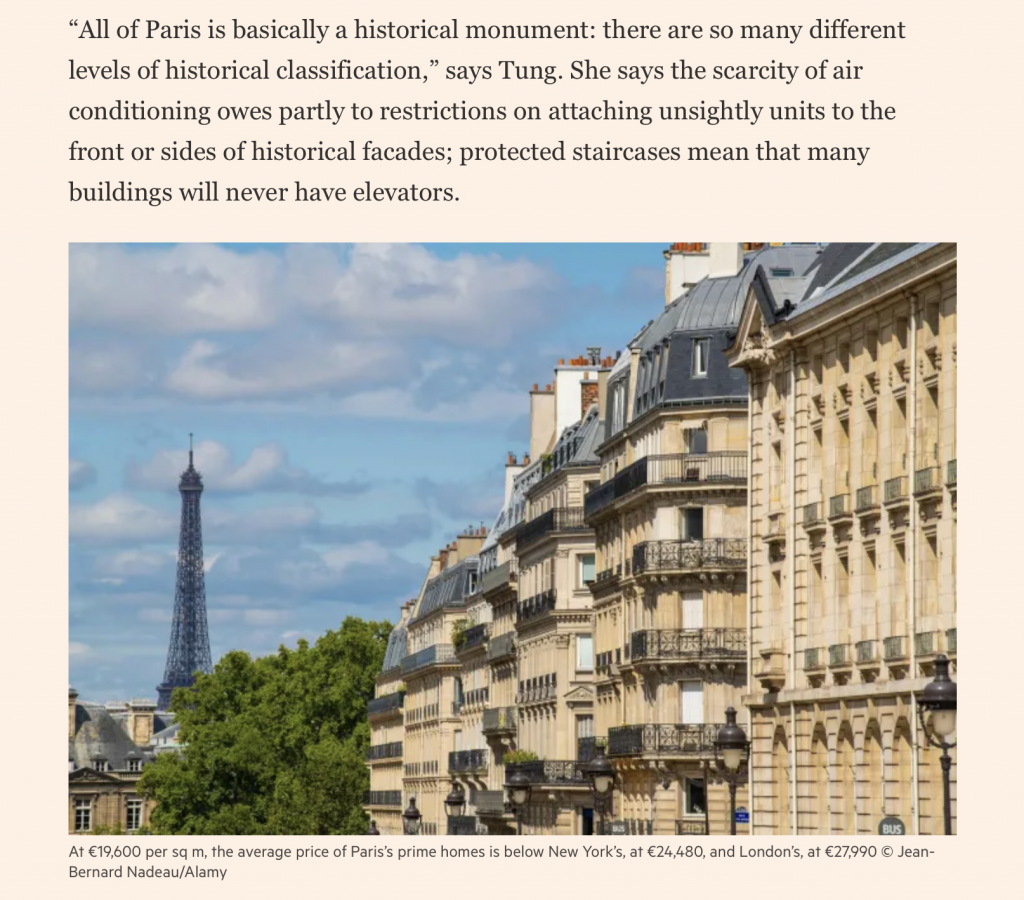 "All of Paris is basically a historical monument: there are so many different levels of historical classification," says Tung. She says the scarcity of air conditioning owes partly to restrictions on attaching unsightly units to the front or sides of historical facades; protected staircases mean that many buildings will never have elevators. 
The Financial Times also spoke to a Home Hunts client who is currently purchasing a beautiful apartment with us to ask her thoughts on the market currently in Paris and her experience of buying:
'Charlotte, 59, who has just had her offer accepted on a three-bedroom apartment in the city's prestigious 6th arrondissement for about €5m, braved the UK quarantine requirements to carry out her search. With logistics such as Covid tests required, organising trips took longer and, on two occasions, promising apartments sold before she had a chance to visit, says Charlotte, who did not want to give her real name.
Ultimately, however, she thinks the restrictions scared off less committed buyers, giving her more of a chance. "[The restrictions] cut out those that wouldn't physically go to visit."  Flaws are hard to find in Charlotte's home, which is fully renovated and has views of the Sacré-Coeur basilica, the Louvre and the Eiffel Tower.'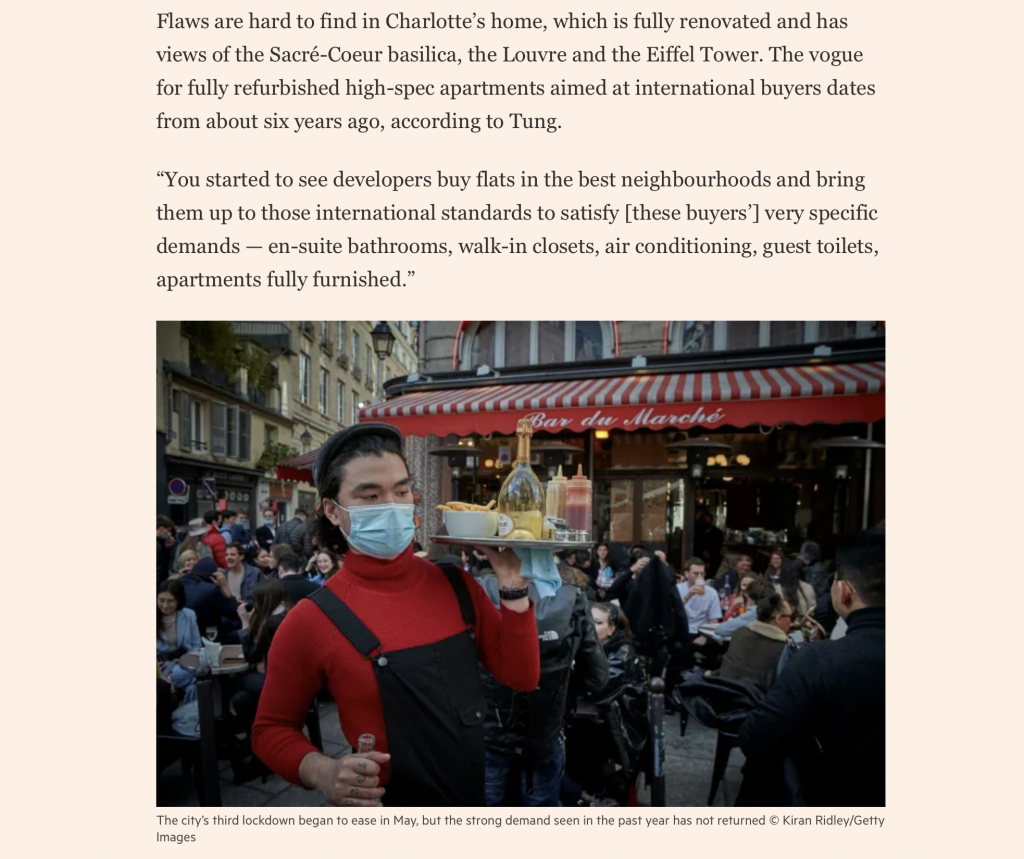 You can read the full article here, although it is behind a paywall, so you can see this version here also –  FINANCIAL TIMES – PARIS
If you are interested in property in Paris or are considering buying a property anywhere in France, Monaco, Spain or Switzerland, Home Hunts are here to help you to find your dream overseas property.
If you would like to speak to one of the team to discuss your needs or just to have a chat about the market, you can call us on +33 970 44 66 43 or send us a mail to info@home-hunts.media. If you just want to browse through thousands of beautiful French homes, visit our website at www.home-hunts.com or follow us on Facebook or Instagram.