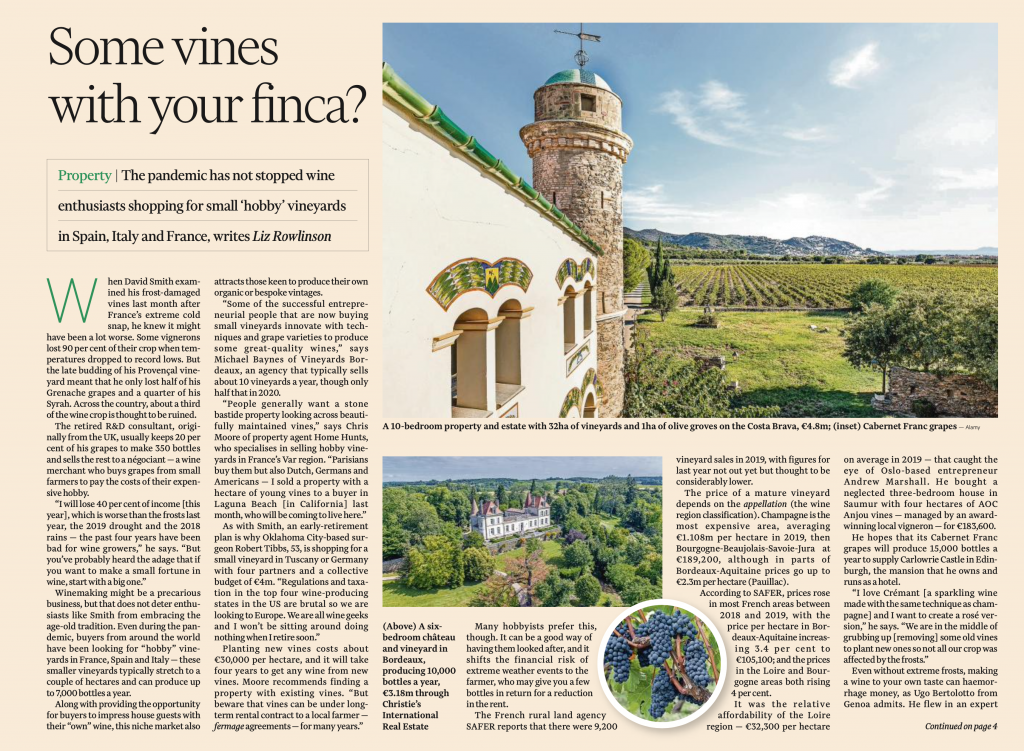 The FT have published a really interesting article about the increase in interest across Europe for properties with vines. The article includes comments from Home Hunts and one of our clients, as well as featuring the beautiful property in the photo below which is currently available for sale in the Var with Home Hunts – More details here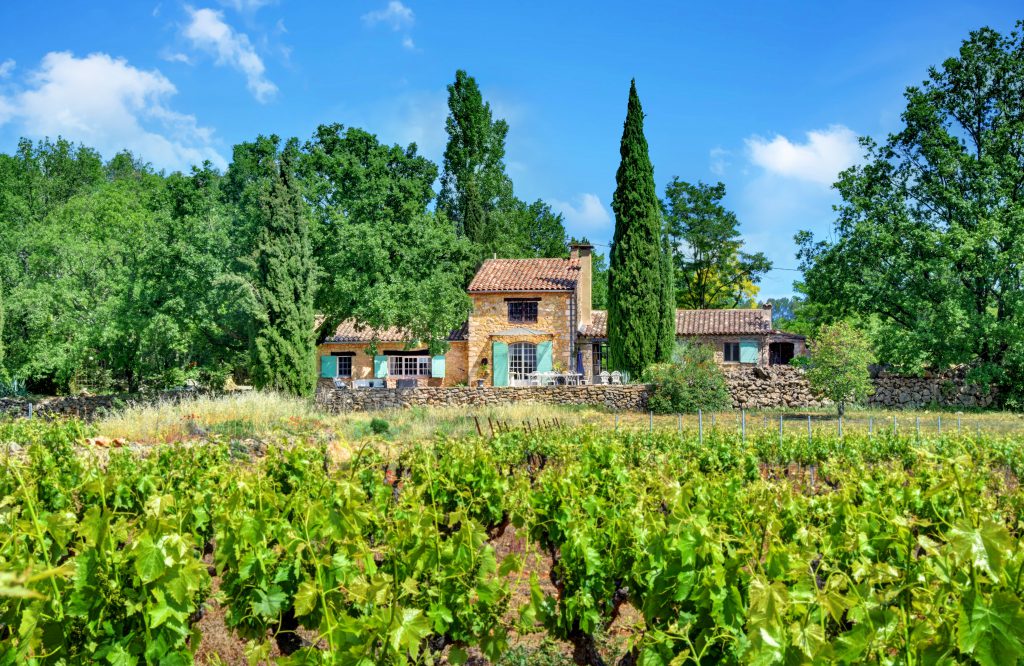 The article begins with some words from Home Hunts client, David Smith, who bought a beautiful property in Provence with Home Hunts. David and family have a working 'hobby' vineyard at their property, which they harvest each year. They usually keeps 20 per cent of their grapes to make around 350 bottles and they sell the rest to a négociant — a wine merchant who buys grapes from small farmers to pay the costs of their hobby.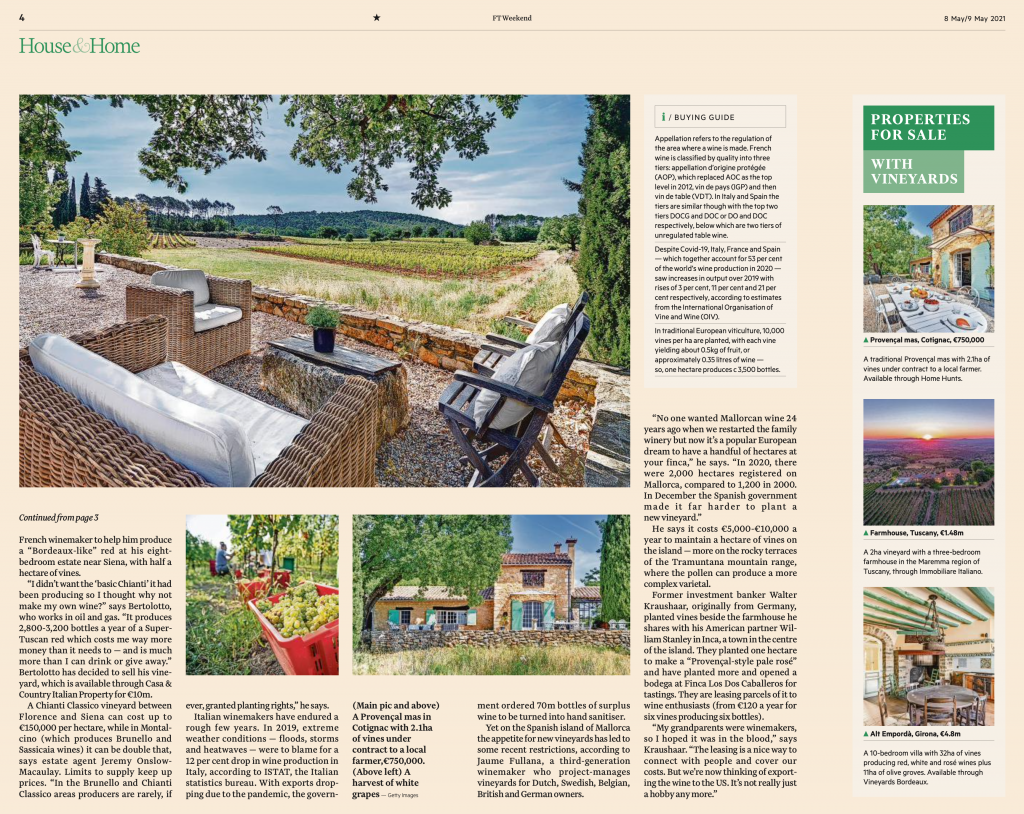 Even during the pandemic, retirees and wine enthusiasts have been shopping for small vineyards in Spain, Italy and France. These smaller vineyards typically stretch to a couple of hectares and will produce up to around 7,000 bottles a year. Along with providing the opportunity for buyers to impress house guests with their "own" wine, this niche market also attracts those keen to produce their own organic or bespoke vintages.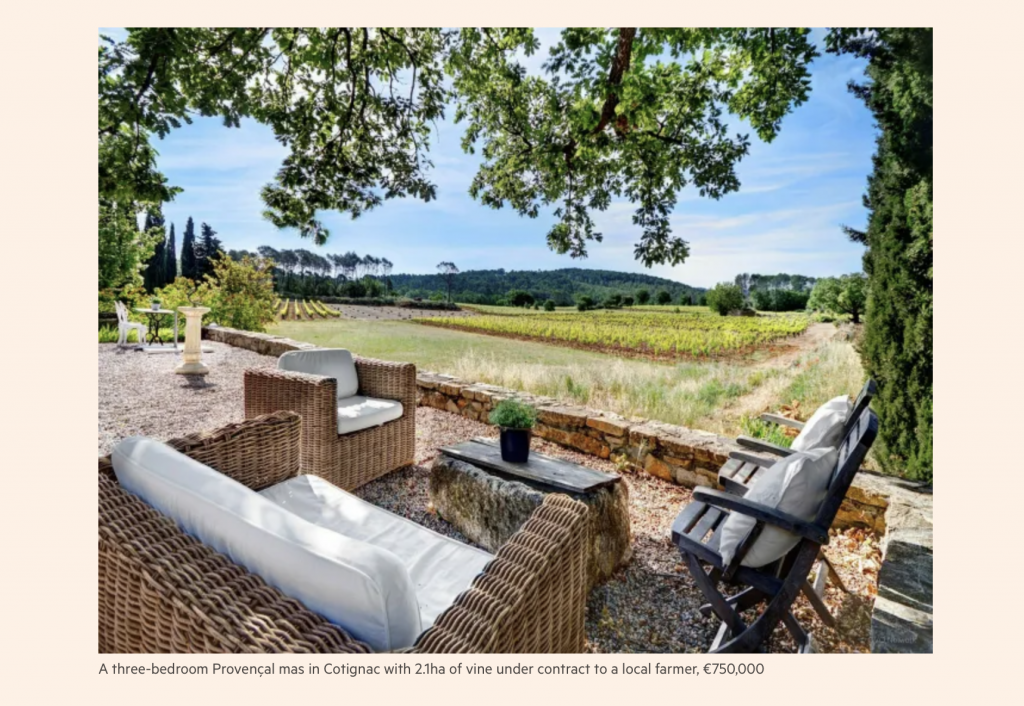 "People generally want a stone bastide property looking across beautifully maintained vines," says Chris Moore of property agent Home Hunts, who specialises in selling hobby vineyards in France's Var region. "Parisians buy them but also Dutch, Germans and Americans — I sold a property with a hectare of young vines to a buyer in Laguna Beach [in California] last month, who will be coming to live here."
Planting new vines costs about €30,000 per hectare, and it can take four years to get any wine from new vines. Moore recommends finding a property with existing vines. "But beware that vines can be under long-term rental contract to a local farmer — so-called fermage agreements — for many years." Many hobbyists prefer this, though. It can be a good way of having them looked after, and it shifts the financial risk of extreme weather events to the farmer, who may give you a few bottles in return for a reduction in the rent.
Read the full article here (behind a paywall) or contact us and we can send you the PDF version of the article.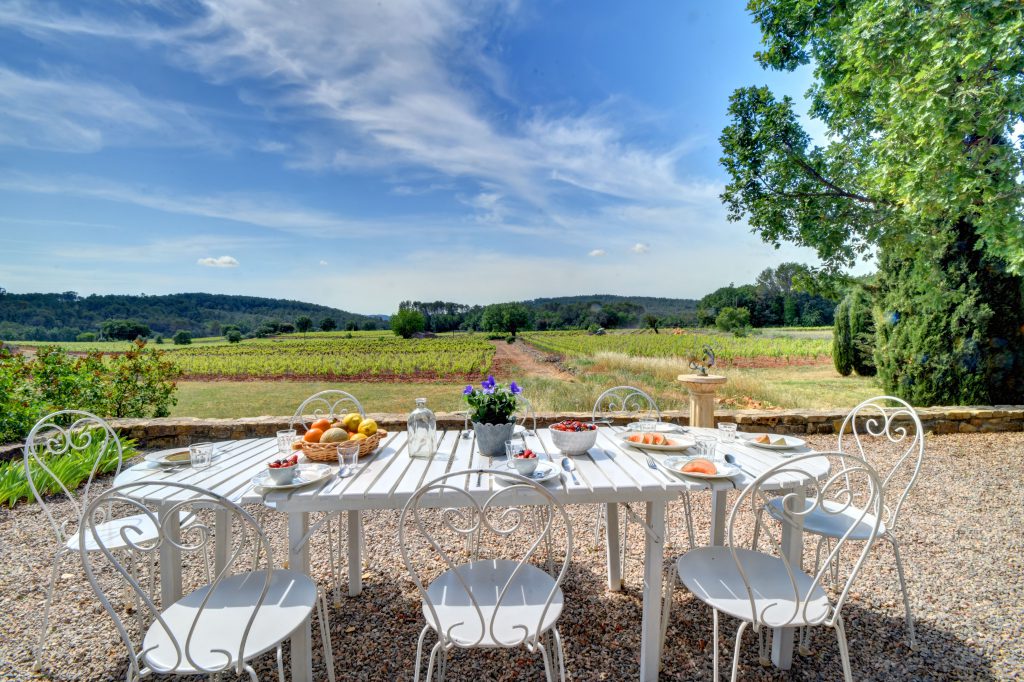 If you are considering buying a property in France, Monaco, Spain or Switzerland, Home Hunts are here to help you to find your dream overseas property. If you would like to speak to one of the team to discuss your needs or just to have a chat about the market, you can call us on +33 970 44 66 43 or send us a mail to info@home-hunts.media. If you just want to browse through thousands of beautiful French homes, visit our website at www.home-hunts.com or follow us on Facebook or Instagram.