The Financial Times recently published an interesting article about the French Riviera property market, focussing particularly on the popular destinations of Mougins, Valbonne and Grasse.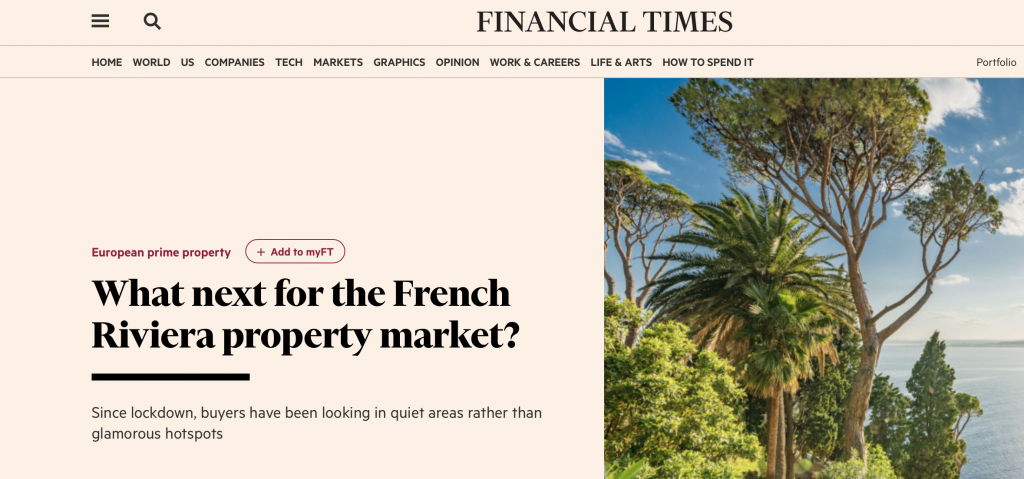 The article says "Potential buyers are inquiring about properties inland, where prices are lower and space and privacy are plentiful. Most in recent weeks have been about the large estates in the French back country — around Valbonne, Mougins and Grasse — selling for between €2m and €8m"
As well as speaking to Home Hunts and some of our partners, they also spoke to one of our clients who lives in Monaco and bought a Riviera property with Home Hunts  – "Since lockdown started, Charles Allen and his family have been cooped up in their three-bedroom flat in Monaco, the sovereign city-state on the French Riviera. "Living in an apartment has its limits and it became quite tense at times," he says. Last summer, Allen — who did not want to give his real name — had bought a villa on the edge of Valbonne, a small French village half an hour's drive from Cannes. It cost a fraction of his Monaco home and had plenty of space, including a large garden and a pool."
The article goes on to say – "Since May 11, when French estate agents could again show properties to prospective buyers, the highest proportion of inquiries for new Riviera homes outside Monaco has come from residents of Monaco and Paris, according to both Fredrik Lilloe of Knight Frank's Cannes office and Tim Swannie of local agent Home Hunts. "Monaco residents have been holed up in apartments for the past 10 weeks and now want to find a home with a bit more space, where they can work from home if they need to," says Swannie. Like Allen — whose primary residence will remain in Monaco — these buyers do not want to move out of the city-state and surrender their tax advantages, says Swannie. They would like another home to use at weekends"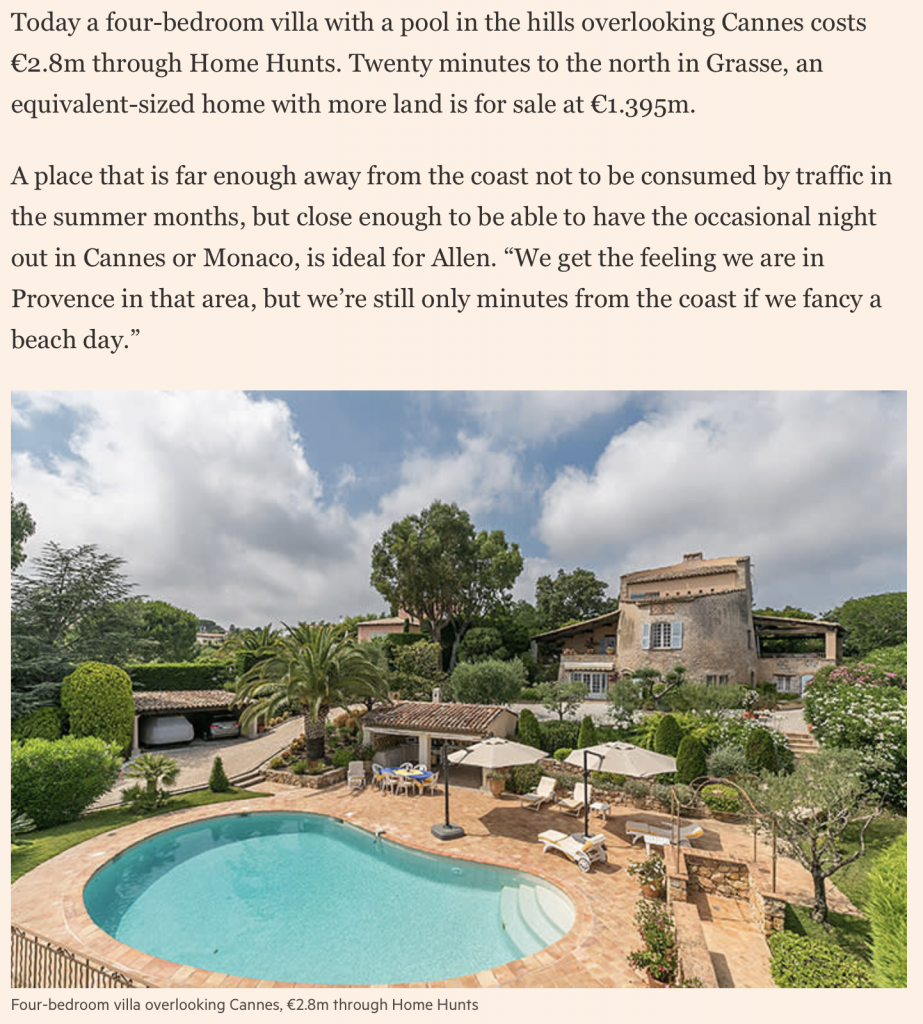 There are a number of French Riviera properties in the article, including the above Home Hunts property in Cannes, Click the image to see more details of this former flour mill with beautiful sea views.
You can Read the article here in full from the Financial Times. There are some comments within the article about property prices – "The Covid-19 pandemic has led to some reductions. One of Swannie's sellers, a Briton in her seventies who is worried about continuing travel restrictions from the UK, dropped the price of her home near Cannes by 12 per cent recently to secure a sale. Three weeks ago, the seller of a nine-bedroom house on 17 acres in Grasse, on the market with Home Hunts, cut the price by €1m to €8.9m. Buyers will need a healthy income to afford the running costs: tending the gardens costs €200,000 a year, Swannie estimates."
If you are thinking about buying a property on the French Riviera or elsewhere in France, feel free to contact us. We are happy to help with any questions you may have.
Find thousands of french properties on our website, email us or call us on 0033 970 44 66 43