The Good Life France is an English speaking magazine dedicated to everything about French property and life in France. It is extremely well read and held is high regard, particularly with the English speaking expat community.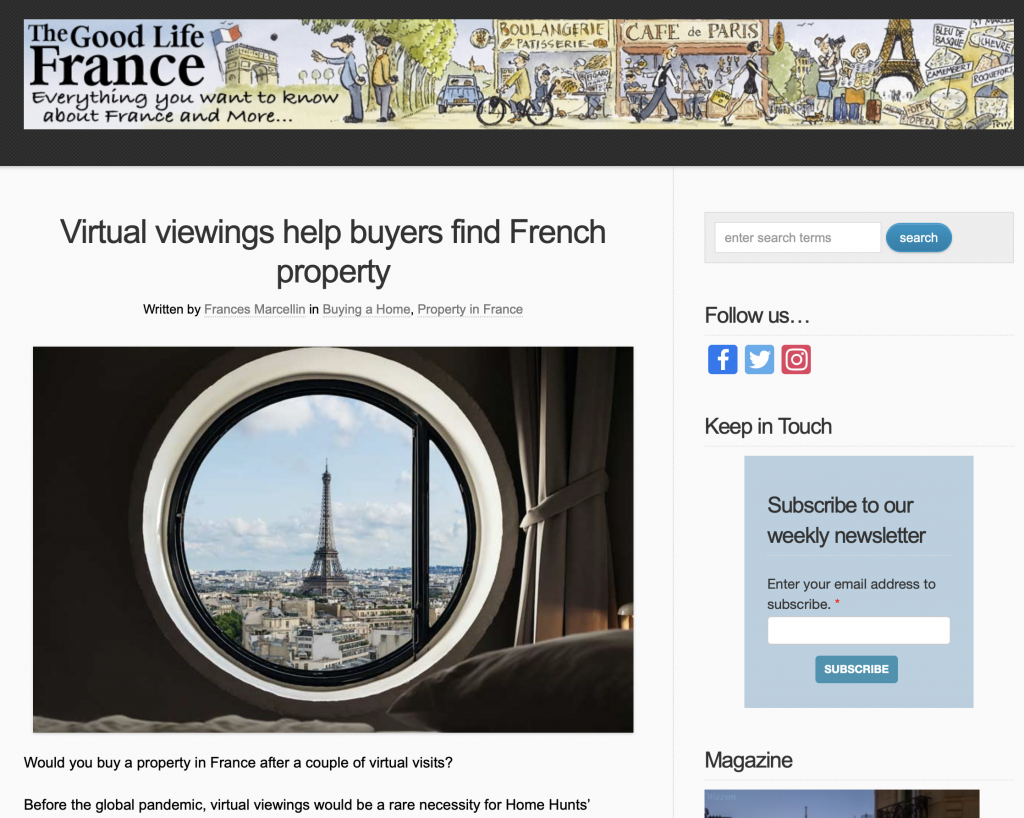 They have just published this article about the 2020 phenomenon of virtual viewings for French property. Obviously 2020 has been a year of change all over the world, the French property market has had to adapt like everywhere else. Travel has been restricted and French property buyers have had to adapt too.
Would you buy a property in France after a couple of virtual visits?
Before the global pandemic, virtual viewings would be a rare necessity for Home Hunts' property-buying clients. However, this year Covid-19 has shut down travel and prevented standard visits. But virtual viewing has come into its own – and to the rescue.
"In 2020 so far, we have agreed 13 or 14 sales for clients who have not seen the properties 'in the flesh.' They've bought on the strength of virtual visits," says Tim Swannie, Director of buyer's agency Home Hunts. "We have also agreed many sales that started with virtual visits but then buyers came over to visit before signing any paperwork and making a final commitment."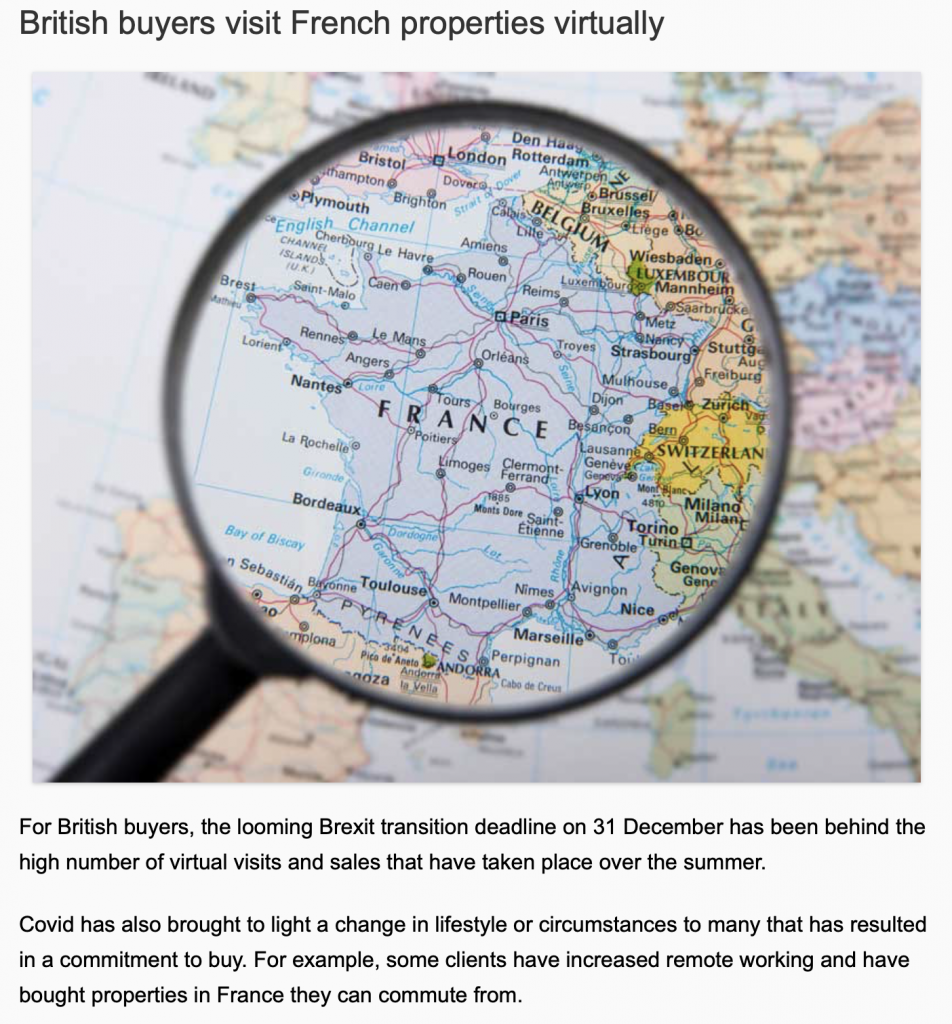 Covid has also brought to light a change in lifestyle or circumstances to many that has resulted in a commitment to buy. For example, some clients have increased remote working and have bought properties in France they can commute from.
A virtual viewing can be carried out in a variety of different ways according to the client's needs or preferences. Home Hunts provides a tailor-made service to clients that also extends to the type of virtual viewing offered. Facetime, Skype and Zoom are some of the most popular applications the team uses to film and transmit the footage.
"It really does depend on the client and what they want," says Tim. "Some properties have professional films already made. For others we go and shoot a film and then send over to the client to visit in their own time. And some clients want to walk through the properties live."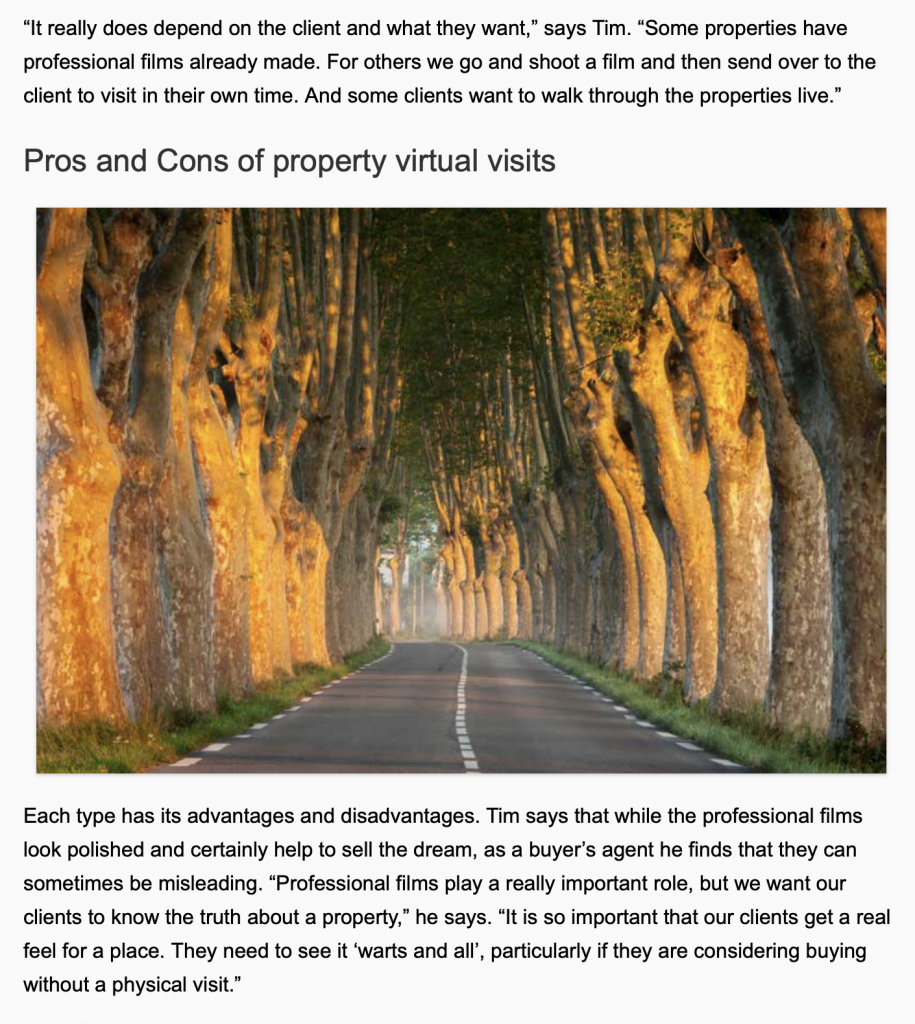 "The client can ask you to look in cupboards, explore the good and bad, listen to noise levels outside and inside. And they can ask questions about anything they like," says Tim. "Clients love this method. The only downside is technology, it isn't always possible to record live sessions to watch it back later on for example."
Sometimes a poor signal or internet connection can affect a live viewing. But when it all goes to plan it is the most effective virtual viewing format for serious buyers.
Detailed property viewings – over internet
Detailed viewings are typically carried out on a second or third viewing. "On these visits usually the client wants measurements of rooms. Or they'll look at furniture. Or view the drive from the property to the beach or town to see how long it takes," says Tim.
Tim says that sometimes the team can get unusual requests. "A few clients have asked us to get some drone footage, so they could get a better feel of grounds and surroundings," he explains. "Another asked us to play a specific song on the vintage jukebox in the games room and record the whole thing before he agreed to buy it, along with a lengthy list of other furniture and fittings."
No matter how specific the detail of your criteria is, Home Hunts are experts at providing the service you need to feel confident about your property investment – even virtually during a pandemic.
To find out more visit www.home-hunts.com, but to talk about your criteria and requirements directly with a consultant, call +33 (0)970 44 66 43