Lux Magazine is a glossy, luxury lifestyle magazine which is printed twice a year covering art, culture, fashion, travel and much more…. Lux is the magazine for global influencers, collectors and high net worth individuals. It is published out of London and sold on news stand around the world, and distributed through a proprietary VIP system that includes selected global events, locations, and clients of some of the world's leading private banks and luxury brands.
This issue includes a great two page article focussing on 'life changing properties', properties where you can really change your lifestyle aimed at those who are looking to take themselves out of the rat race and try something new.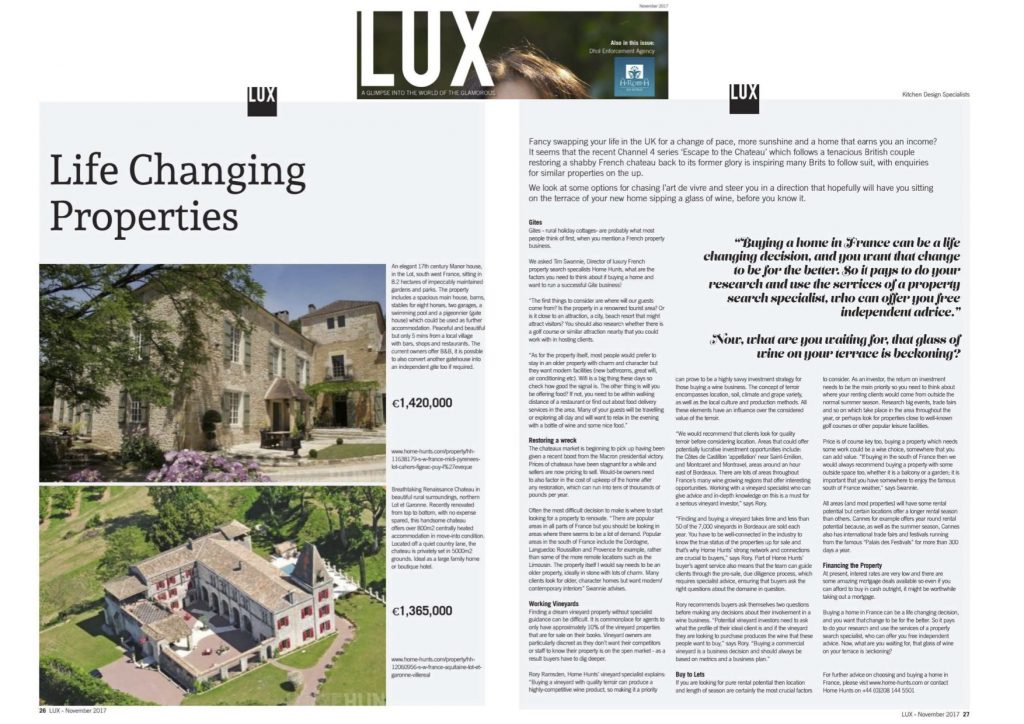 This is an interesting article which includes french properties and comments from Home Hunts. Read the article here, here is a little except:
Fancy swapping your life in the UK for a change of pace, more sunshine and a home that earns you an income?  It seems that the Channel 4 series 'Escape to the Chateau' which follows a tenacious British couple restoring a shabby French chateau back to its former glory is inspiring many Brits to follow suit, with enquiries for similar properties on the up.
We look at some options for chasing l'art de vivre and steer you in a direction that hopefully will have you sitting on the terrace of your new home sipping a glass of wine, before you know it.
Gites
Gites – rural holiday cottages- are probably what most people think of first, when you mention a French property business.
We asked Tim Swannie, Director of luxury French property search specialists Home Hunts, what are the factors you need to think about if buying a home and want to run a successful Gite business?………..