Interesting article from Mansion Global regarding the property market in Marseille. Marseille is where you can find the Headquarters of Home Hunts, it is also one of the most exciting and vibrant cities in the South of France, yet it often gets overlooked. Marseille offers so much and the Marseille property market is an exciting one that is becoming more and more popular with overseas buyers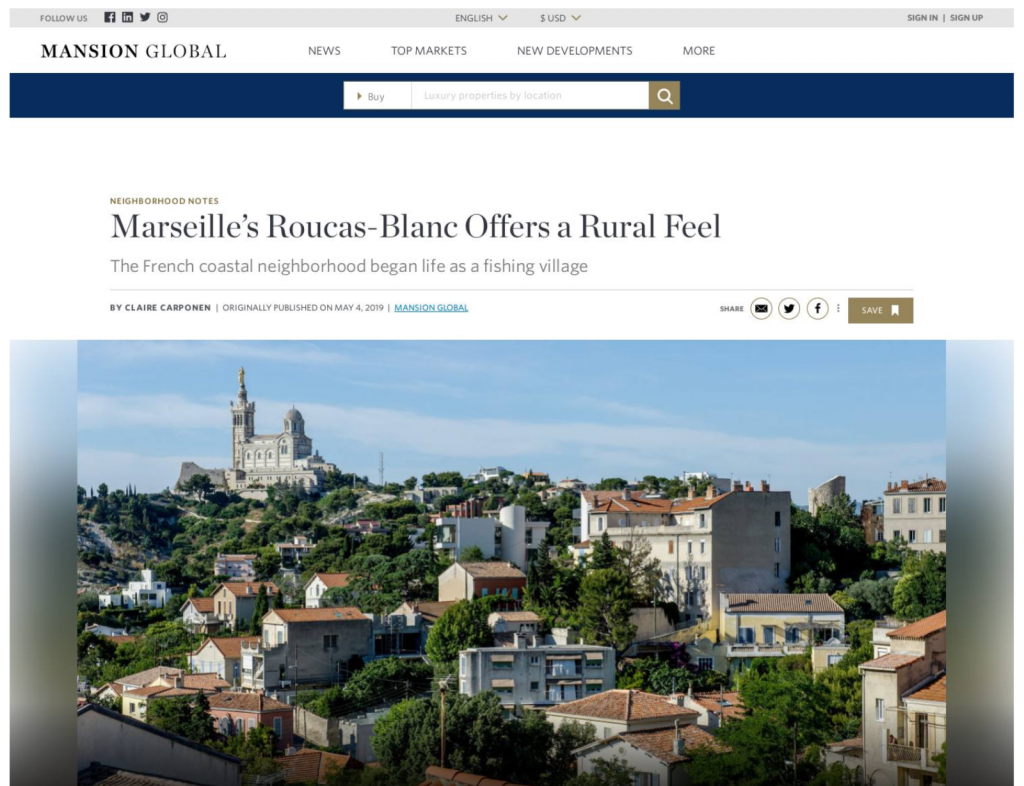 The article talks bout specific neighbourhoods around Marseille and really focuses on the most upmarket areas such as 'Roucas-Blanc'. The feature includes comments from Home Hunts director and Marseille resident, Francois-Xavier de Vial, which includes:
Property prices in the prime part of the Roucas-Blanc market have shifted upward, according to François-Xavier de Vial, director of luxury property specialists Home Hunts.New and modernized homes with sea views can reach up to and above €10,000 per square meter, which, he said, represents an increase of between 6% and 10% over the past two or three years

Yet Marseille remains relatively affordable compared to Paris. Prime prices in the French capital range from between €12,000 per square meter and €20,000 per square meter, with ultra-prime prices starting at €20,000 per square meter, according to the Savills 2019 spotlight report on Paris's prime residential market.
"There are houses that have been on the market for two to three years, but only because their asking price is too high. But even at high prices, there are now buyers," he said. A number of big sales have gone through over the past year, he said, referring to homes that have sold for between €5 million and €6 million. "Parisians, local business owners, football players and actors are among the buyers."
Marseille's urban landscape is formed of a series of villages, and each one has its own property market, Mr. de Vial said. "In Roucas-Blanc, there is usually only a small number of homes on the market at one time and because homes are so in demand, sellers often opt to sell their homes privately."
A house above the corniche affected by significant traffic noise sold last year for more than €7,000 per square meter, he said. "Everything needed renovating but there was a potential for an extension. We had the same house on our books three years ago and nobody wanted to buy it."
It's quiet and quaint, and the locals like it that way. "Few things have changed in Roucas-Blanc," Mr. de Vial. "Most owners want to stay discreet behind their old walls or hedges on very narrow roads. Nobody wants Traverse Pey road enlarged even though your car mirrors are 2 centimeters to 5 centimeters from the walls and there is traffic in both directions."
It is less than a 15-minute drive from regenerated Old Port, or Vieux-Port, which features Les Terrasses Du Port shopping mall, with just under 200 shops and the Museum of European and Mediterranean Civilisations.
Kad Merad, a French-Algerian filmmaker and actor, has made the neighborhood his home, according to Mr. de Vial.
Other famous residents and property owners include Laurent Ruquier, the French television presenter; Eric Cantona, the footballer and actor; Christophe Dechavanne, a French television and radio host; Jean-Jacques Golman, a French singer-songwriter and producer; ZiZi Jeanmaire, a French dancer who was married to the late choreographer Roland Petit,