Great article from Property Investor today regarding the French property market and how Brexit is affecting things for British buyers.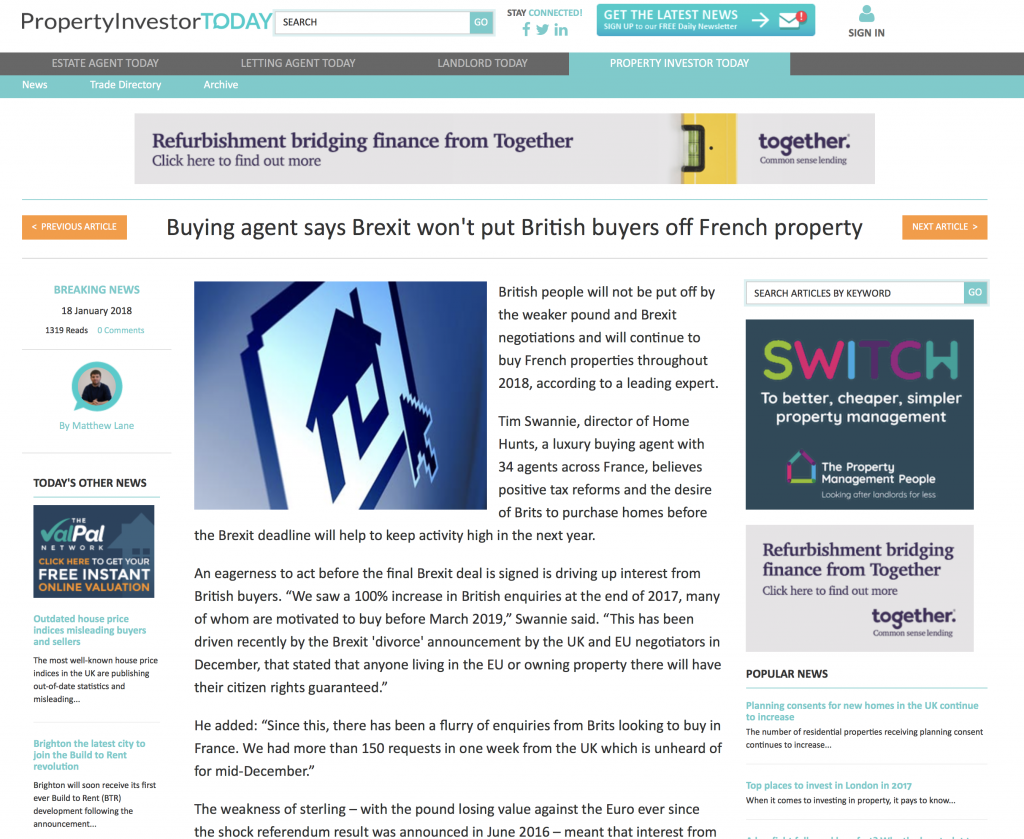 The article includes lots of comments and thought from Home Hunts:
British people will not be put off by the weaker pound and Brexit negotiations and will continue to buy French properties throughout 2018, according to a leading expert.

Tim Swannie, director of Home Hunts, a luxury buying agent with 34 agents across France, believes positive tax reforms and the desire of Brits to purchase homes before the Brexit deadline will help to keep activity high in the next year.

An eagerness to act before the final Brexit deal is signed is driving up interest from British buyers. "We saw a 100% increase in British enquiries at the end of 2017, many of whom are motivated to buy before March 2019," Swannie said. "This has been driven recently by the Brexit 'divorce' announcement by the UK and EU negotiators in December, that stated that anyone living in the EU or owning property there will have their citizen rights guaranteed."

He added: "Since this, there has been a flurry of enquiries from Brits looking to buy in France. We had more than 150 requests in one week from the UK which is unheard of for mid-December."

The weakness of sterling – with the pound losing value against the Euro ever since the shock referendum result was announced in June 2016 – meant that interest from British buyers was a little up and down during 2017. But the falling pound has also led more users to take out flexible mortgages.

"Having sat on the fence for a while, many Brits have just decided 'enough is enough' and rather than continuing to wait, they have looked for ways to make things work," Swannie added.
See the article online here, if you would like to speak to someone about the French property market, drop us an email to info@home-hunts.media , we would be delighted to help