Nice article from Property Investor Today website which focuses on the property market in the French Alps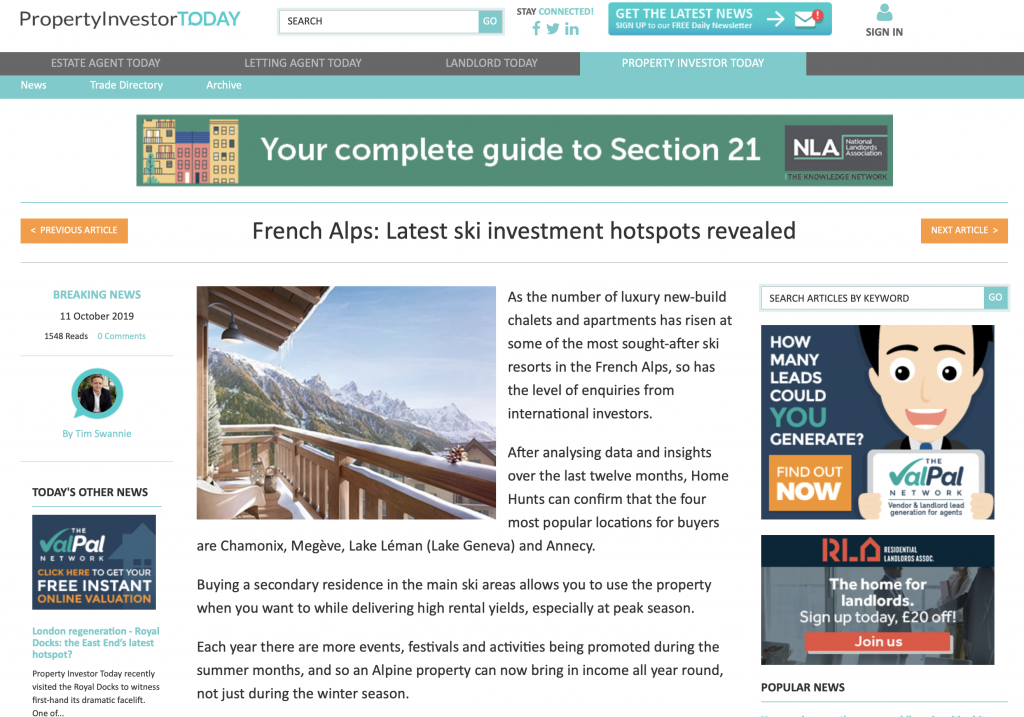 You can read the full article below or click here to see it on the site directly
As the number of luxury new-build chalets and apartments has risen at some of the most sought-after ski resorts in the French Alps, so has the level of enquiries from international investors.
After analysing data and insights over the last twelve months, Home Hunts can confirm that the four most popular locations for buyers are Chamonix, Megève, Lake Léman (Lake Geneva) and Annecy.
Buying a secondary residence in the main ski areas allows you to use the property when you want to while delivering high rental yields, especially at peak season.
Each year there are more events, festivals and activities being promoted during the summer months, and so an Alpine property can now bring in income all year round, not just during the winter season.
Year-round appeal in Chamonix
Significant investments have been made in Chamonix and Megève, both of which are easy to reach from Geneva airport.
The property markets here are stable, offer year-round rental income and provide that dream Alpine lifestyle in every season.
New investment in Chamonix includes a €10 million investment in the Grands Montets ski area, which replaces two old chairlifts and a dedicated area for beginners.
For those seeking luxury hotel accommodation and top-notch cuisine, the Grand Palace of Savoy is now the Folie Douce hotel, which offers live entertainment, three restaurants and direct access to the slopes.
Chamonix offers an active lifestyle and the chance to be part of an entrepreneurial, international and cosmopolitan community, which is highly attractive to our overseas clients.
Another reason people come specifically to this resort is because you can experience the heights of the mountains through the lifts and cable cars even if you're not an experienced climber.
Experience the magic of Megève
A resort first conceived by the Rothschilds in the 1920s (following the first skiing competition here in 1914) to rival those in Switzerland, Megève is just an hour from Geneva airport.
Once a little-known farming market town, parts of the town date back to the 13th century. One of Home Hunts' most coveted resorts in the Alps, it offers a charming historic centre and quaint cobblestone streets.
Megève has three main ski zones: Rochebrune, Mont d'Arbois and Le Jaillet which provide 325km of pistes. The varying terrain, from wide-open spaces to forested slopes, keeps visitors coming back for more year after year.
Development in the town means that property here is more sought after than ever. Over €200 million has been invested in new ski cannons, lifts and a sports centre, making the resort even more attractive. More development, in hotels and ski facilities, is planned for the near future.
A few changes have brought more skiers and buyers into Megève. Investments in the resort's lift system has made a big difference and it is a year-round favourite, so those looking for properties with a rental income will find some interesting opportunities here.
Buy into the all-season success of Annecy
Home Hunts has seen a real upturn in interest in the whole lake Annecy area over the last two to three years. Infrastructure development, such as transport improvements, ski resort access and property investment, has brought a heathy boost to the property market.
A beautiful and charming town, which is steeped in history, art and culture, it is close to ski resorts as well as sitting on the banks of a stunning lake. Equally stunning in the sunshine or under snow and is busy throughout the year rather than just being a winter destination.
The eastern shore of the lake is the most desirable, and the most expensive, area. On this side of the lake you get the sunshine until much later on and there is also less traffic.
This is where some of the most prestigious properties are located. Having said that, we have seen interest rising on the west too – because the weather is a little cooler there in summer, you get slightly better value for money and you get the views of the sun setting on the mountains.
Invest in a Lake Léman lifestyle
The Lake Léman (or Lake Geneva) property market is one of the most coveted. Its proximity to Geneva and ski resorts, as well as beautiful lake views, means that waterside properties come at a premium price.
Yvoire, a charming medieval town with narrow streets and artisan shops offers an upmarket lifestyle, with water sports on your doorstep in the summer, and easy access to the Portes du Soleil ski area.
Sailing, swimming, fishing, white water rafting on nearby mountain rivers and luxury shopping in Geneva can be part of daily life during the summer.
The rental market is strong, especially as you get closer to the Swiss border to places like Veigy Foncenex, Chens sur Léman and Messery, due to high demand from commuters. We have noticed a number of relocations from people working in London, specifically in finance.
Evian, Thonon and Les Bain de Lavey, over the border in Switzerland, also offer stable, lifestyle-enhancing property markets that appeal to international investors.