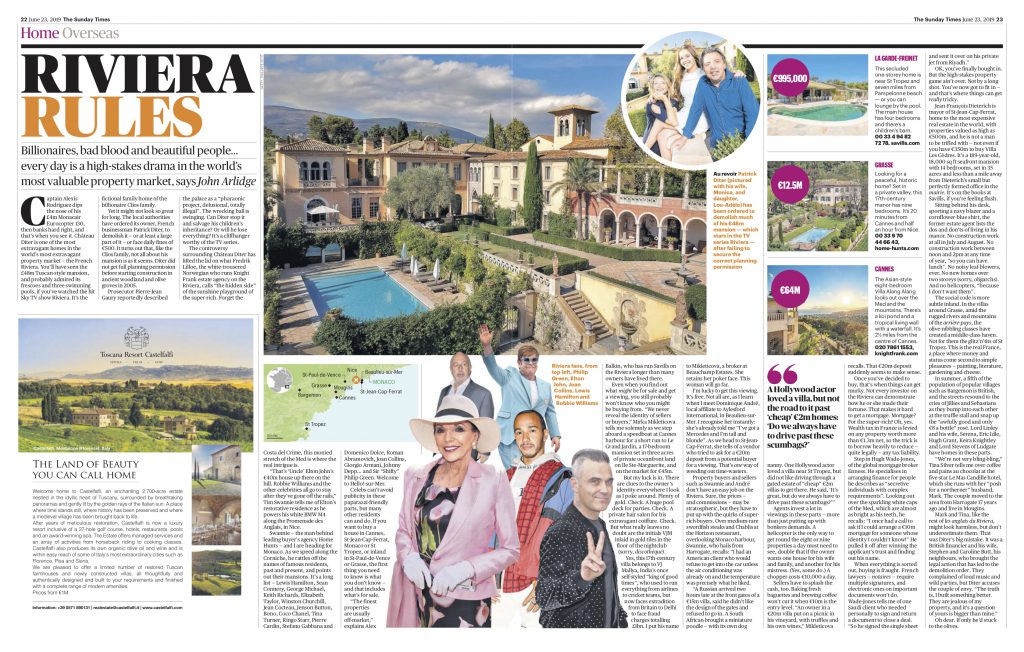 The Sunday Times have focussed on the 'world's most valuable property market' this week, the French Riviera. The French Riviera property market is varied, much like the scenery, the culture, the food and of course, the people! The Sunday Times have written about the top end of the market or "Billionaires, bad blood and beautiful people… every day is a high-stakes drama" as they have put it. The article includes a chat with Home Hunts director Tim Swannie, as well as a stunning French Riviera property from Home Hunts. The article is over the top and makes a fun read. Enjoy!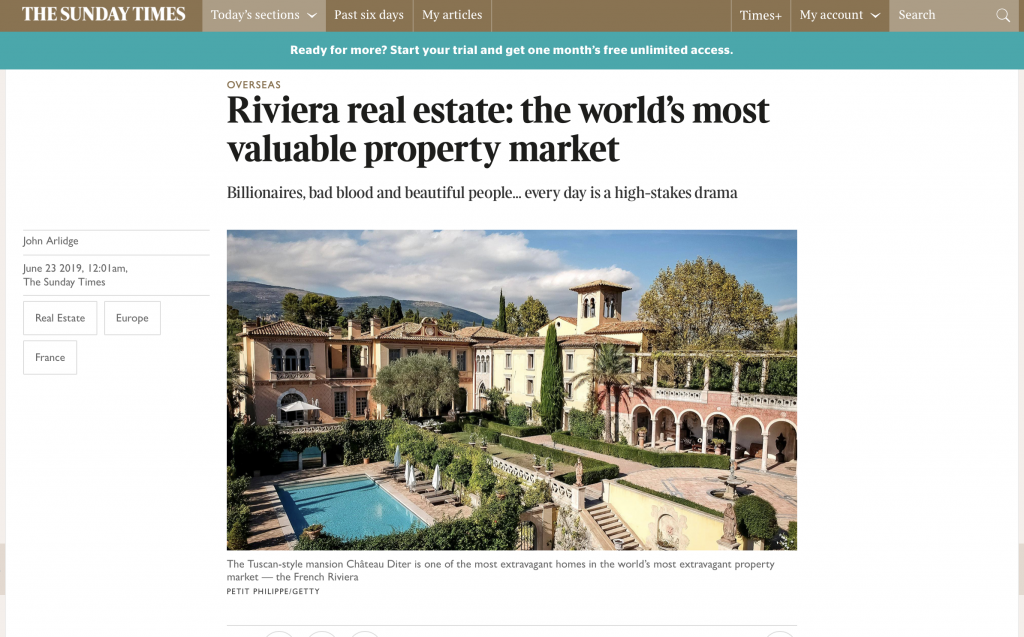 The article can be found here but, as it is behind a paywall, we have included the text below too:
Captain Alexis Rodriguez dips the nose of his £4m Monacair Eurocopter 130, then banks hard right, and that's when you see it. Château Diter is one of the most extravagant homes in the world's most extravagant property market — the French Riviera. You'll have seen the £48m Tuscan-style mansion, and probably admired its frescoes and three swimming pools, if you've watched the hit Sky TV show Riviera. It's the fictional family home of the billionaire Clios family.
Yet it might not look so great for long. The local authorities have ordered its owner, French businessman Patrick Diter, to demolish it — or at least a large part of it — or face daily fines of €500. It turns out that, like the Clios family, not all about his mansion is as it seems. Diter did not get full planning permission before starting construction in ancient woodland and olive groves in 2005.
Prosecutor Pierre-Jean Gaury reportedly described the palace as a "pharaonic project, delusional, totally illegal". The wrecking ball is swinging. Can Diter stop it and salvage his children's inheritance? Or will he lose everything? It's a cliffhanger worthy of the TV series.
The controversy surrounding Château Diter has lifted the lid on what Fredrik Lilloe, the white-trousered Norwegian who runs Knight Frank estate agency on the Riviera, calls "the hidden side" of the sunshine playground of the super-rich. Forget the Costa del Crime, this monied stretch of the Med is where the real intrigue is.
That's 'Uncle' Elton John's €40m house up there on the hill. Robbie Williams and the other celebrities all go to stay after they've gone off the rails." Tim Swannie tells me of Elton's restorative residence as he powers his white BMW M4 along the Promenade des Anglais, in Nice.
Swannie — the man behind leading buyer's agency Home Hunts — and I are heading for Monaco. As we speed along the Corniche, he rattles off the names of famous residents, past and present, and points out their mansions. It's a long list — Lewis Hamilton, Sean Connery, George Michael, Keith Richards, Elizabeth Taylor, Winston Churchill, Jean Cocteau, Jenson Button, Bono, Coco Chanel, Tina Turner, Ringo Starr, Pierre Cardin, Stefano Gabbana and Domenico Dolce, Roman Abramovich, Joan Collins, Giorgio Armani, Johnny Depp… and Sir "Shifty" Philip Green. Welcome to Hello!-sur-Mer.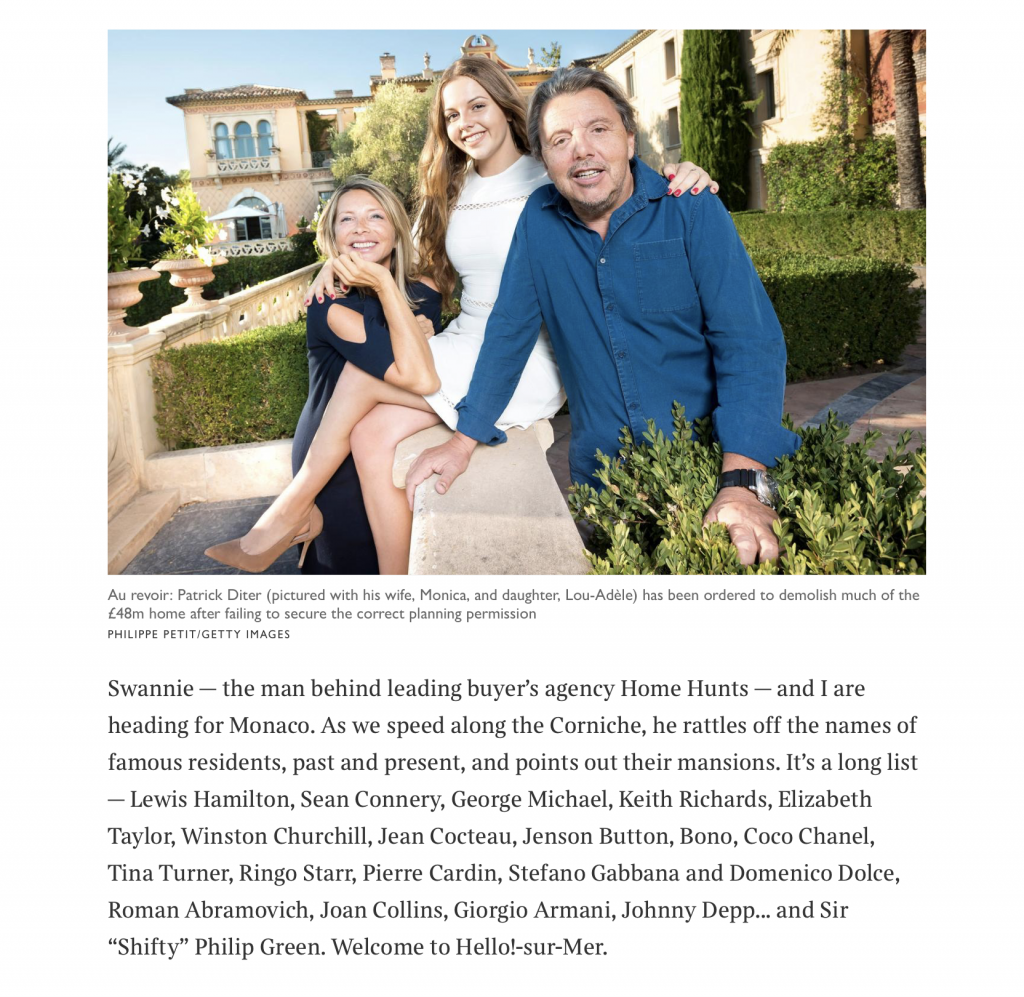 Celebs can't avoid publicity in these paparazzi-friendly parts, but many other residents can and do. If you want to buy a house in Cannes, St-Jean-Cap-Ferrat, Monaco or St Tropez, or inland in St-Paul-de-Vence or Grasse, the first thing you need to know is what you don't know — and that includes what's for sale.
"The finest properties are usually off-market," explains Alex Balkin, who has run Savills on the Riviera longer than many owners have lived there.
Even when you find out what might be for sale and get a viewing, you still probably won't know who you might be buying from. "We never reveal the identity of sellers or buyers," Mirka Mikleticova tells me solemnly as we step aboard a speedboat at Cannes harbour for a short run to Le Grand Jardin, a 17-bedroom mansion set in three acres of private oceanfront land on Ile Ste-Marguerite, and on the market for €45m.
But my luck is in. There are clues to the owner's identity everywhere I look as I poke around. Plenty of gold. Check. A huge pool deck for parties. Check. A private hair salon for his extravagant coiffure. Check. But what really leaves no doubt are the initials VJM inlaid in gold tiles in the floor of the nightclub (sorry, discothèque).
Yes, this 17th-century villa belongs to VJ Mallya, India's once self-styled "king of good times", who used to run everything from airlines to cricket teams, but now faces extradition from Britain to Delhi to face fraud charges totalling £1bn. I put his name to Mikleticova, a broker at Beauchamp Estates. She retains her poker face. This woman will go far.
I'm lucky to get this viewing. It's free. Not all are, as I learn when I meet Dominique André, local affiliate to Aylesford International, in Beaulieu-sur-Mer. I recognise her instantly: she's already told me "I've got a Mercedes and I'm tall and blonde". As we head to St-Jean-Cap-Ferrat, she tells of a vendor who tried to ask for a €20m deposit from a potential buyer for a viewing. That's one way of weeding out time-wasters.
Property buyers and sellers such as Swannie and André don't have an easy job on the Riviera. Sure, the prices — and commissions — may be stratospheric, but they have to put up with the quirks of super-rich buyers. Over medium-rare swordfish steaks and Chablis at the Horizon restaurant, overlooking Monaco harbour, Swannie, who hails from Harrogate, recalls: "I had an American client who would refuse to get into the car unless the air conditioning was already on and the temperature was precisely what he liked.
"A Russian arrived two hours late at the front gates of a €15m villa, said he didn't like the design of the gates and refused to go in. A South African brought a miniature poodle — with its own dog nanny. One Hollywood actor loved a villa near St Tropez, but did not like driving through a gated estate of "cheap" €2m villas to get there. He said, 'It's great, but do we always have to drive past these scumbags?'"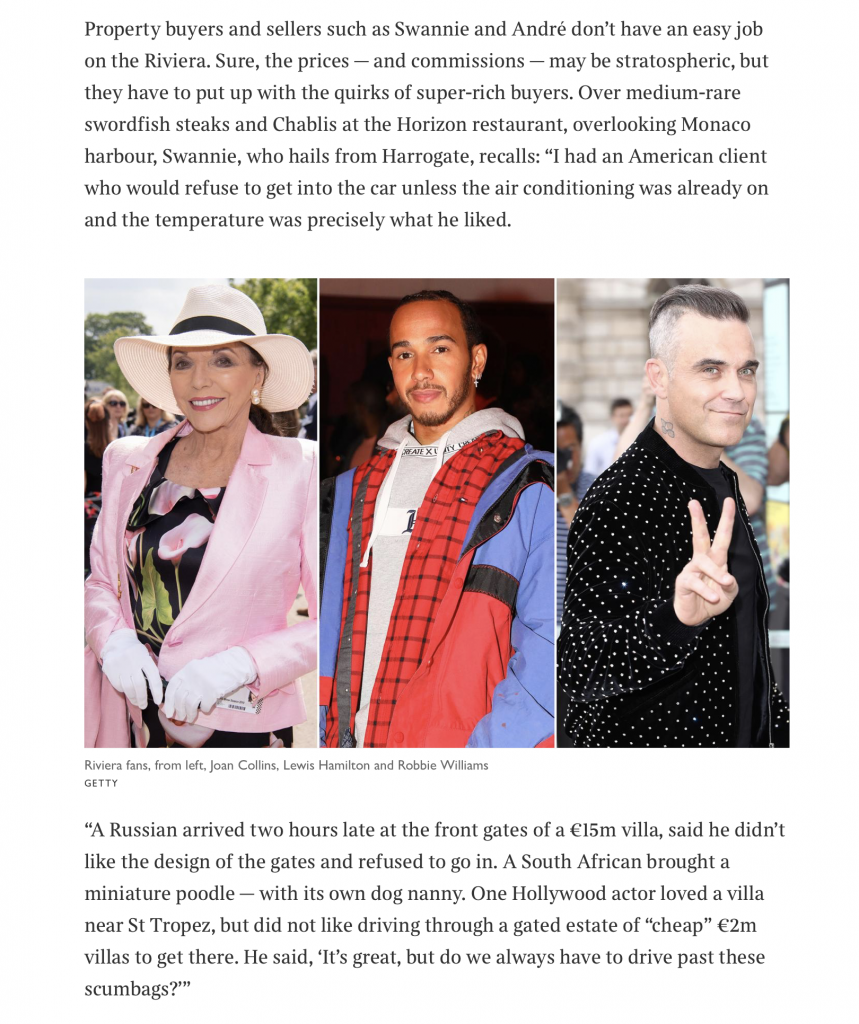 Agents invest a lot in viewings in these parts — more than just putting up with bonkers demands. A helicopter is the only way to get round the eight or nine properties a day most need to see, double that if the owner wants one house for his wife and family, and another for his mistress. (Yes, some do.) A chopper costs €10,000 a day.
Sellers have to splash the cash, too. Baking fresh baguettes and brewing coffee won't cut it when €10m is the entry level. "An owner in a €20m villa put on a picnic in his vineyard, with truffles and his own wines," Mikleticova recalls. That €20m deposit suddenly seems to make sense.
Once you've decided to buy, that's when things can get murky. Not every investor on the Riviera can demonstrate how he or she made their fortune. That makes it hard to get a mortgage. Mortgage? For the super-rich? Oh, yes. Wealth tax in France is levied on any property worth more than €1.3m net, so the trick is to borrow heavily to reduce — quite legally — any tax liability.
Step in Hugh Wade-Jones, of the global mortgage broker Enness. He specialises in arranging finance for people he describes as "secretive individuals with complex requirements". Looking out over the sparkling white caps of the Med, which are almost as bright as his teeth, he recalls: "I once had a call to ask if I could arrange a €10m mortgage for someone whose identity I couldn't know!" He pulled it off after winning the applicant's trust and finding out his name.
When everything is sorted out, buying is fraught. French lawyers — notaires — require multiple signatures, and electronic ones on important documents won't do. Wade-Jones tells me of one Saudi client who needed personally to sign and return a document to close a deal. "So he signed the single sheet and sent it over on his private jet from Riyadh."
OK, you've finally bought in. But the high-stakes property game ain't over. Not by a long shot. You've now got to fit in — and that's where things can get really tricky.
Jean-François Dieterich is mayor of St-Jean-Cap-Ferrat, home to the most expensive real estate in the world, with properties valued as high as €500m, and he is not a man to be trifled with — not even if you have €350m to buy Villa Les Cèdres. It's a 189-year-old, 18,000 sq ft seafront mansion with 14 bedrooms, set in 35 acres and less than a mile away from Dieterich's small but perfectly formed office in the mairie. It's on the books at Savills, if you're feeling flush.
Sitting behind his desk, sporting a navy blazer and a cornflower-blue shirt, the former estate agent lists the dos and don'ts of living in his manor. No construction work at all in July and August. No construction work between noon and 2pm at any time of year, "so you can have lunch". No noisy leaf-blowers, ever. No new homes over two storeys (sorry, oligarchs). And no helicopters, "because I don't want them".
The social code is more subtle inland. In the villas around Grasse, amid the rugged rivers and mountains of the arrière-pays, the olive-nibbling classes have created a middle-class haven. Not for them the glitz'n'tits of St Tropez. This is the real France, a place where money and status come second to simple pleasures — painting, literature, gardening and cheese.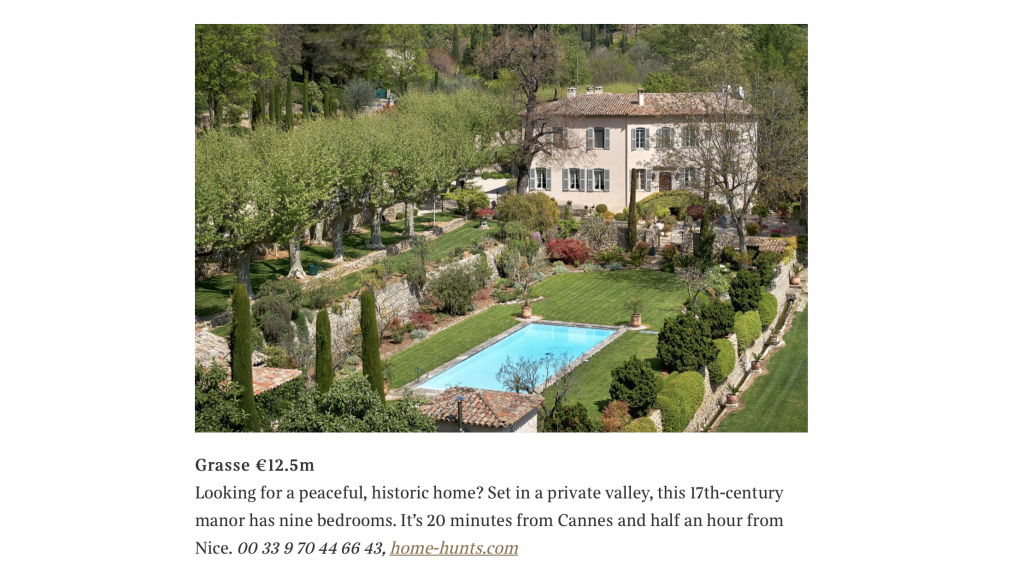 In summer, a fifth of the population of popular villages such as Bargemon is British, and the streets resound to the cries of Jillies and Sebastians as they bump into each other at the truffle stall and snap up the "awfully good and only €8 a bottle" rosé. Lord Linley and his wife, Serena, Eric Idle, Hugh Grant, Keira Knightley and Lord Stevens of Ludgate have homes in these parts.
"We're not very bling-bling," Tina Silver tells me over coffee and pains au chocolat at the five-star Le Mas Candille hotel, which she runs with her "posh for a northerner" husband, Mark. The couple moved to the area from Harrogate 17 years ago and live in Mougins.
Mark and Tina, like the rest of les anglais du Riviera, might look harmless, but don't underestimate them. That was Diter's big mistake. It was a British financier and his wife, Stephen and Caroline Butt, his neighbours, who brought the legal action that has led to the demolition order. They complained of loud music and wild parties, but Diter accuses the couple of envy. "The truth is, I built something better. They are jealous of my property, and it's a question of yours is bigger than mine."
Oh dear. If only he'd stuck to the olives.
Read the online article here or, click here to search through thousands of luxury properties for sale on the French Riviera and across France