Great article from the Daily Telegraph focussing on the growing trend of buying a running a vineyard. The title of the online article is 'Where to buy a vineyard, and get a complete change of lifestyle thrown in' and the article that appeared in the paper was titled 'Vintage years in your own winery'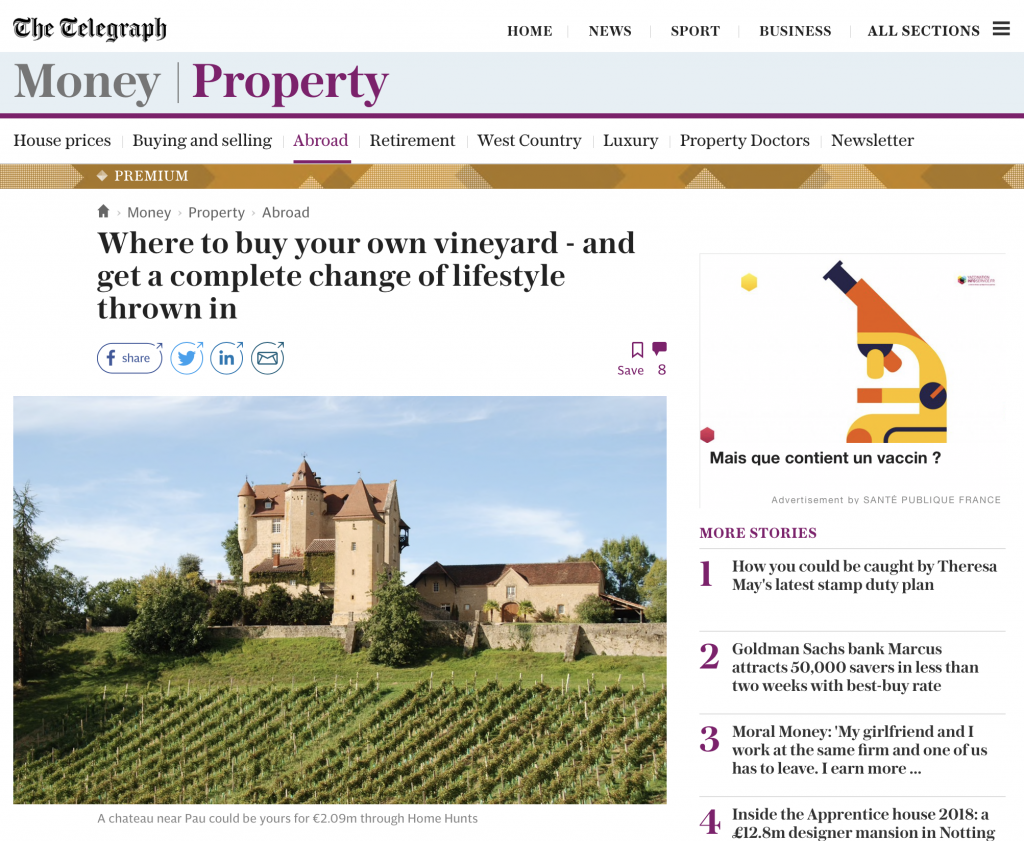 The article includes several vineyards for sale in France and other countries, there are also interviews with vineyard owners and a variety of useful information and advice about owning a wine property.
There isa wonderful chateau and vineyard in South West France from Home Hunts, Tim Swannie is quoted in the article too:
Singers and actors seem particularly into the idea: Sir Cliff Richard, Mick Hucknall, Antonio Banderas, Sam Neill and Brad Pitt and Angelina Jolie have all owned vineyards. Buying one for the lifestyle benefits remains very popular, says Tim Swannie of Home Hunts, a buying agent in France that has a specialist vineyard division.

"From young couples looking for a retreat, to City boys, retired couples and families looking for a B&B property with revenue, we help a diverse range of people find lifestyle vineyard properties in France," he says.
The article goes on to say
"We get a lot of interest from British clients, as well as Dutch, Belgians, Germans, Scandinavians and some Americans," he adds. "Most don't want to turn the vines into a commercial venture, but love the idea of being able to produce their own wine for friends and family."

Looking after a hobby vineyard in France or Spain doesn't have to dominate your time. You could get a local vineyard to manage and harvest the grapes or learn the ropes yourself.

"Many buyers have no previous experience and will get help from a local expert for the first season or two, while they get up to speed," adds Swannie.