According to a recent research by BNP Paribas, Brits still top the number of foreign buyers in France and make up 27% of all international homebuyers in the last year, despite uncertainty around Brexit. Buying agent Home Hunts, who has over 30 agents across France, provides insight from their own research in their recently published "Inside France Report 2019" on the most popular places for investment, region by region, and identify the trends which have emerged in the past year.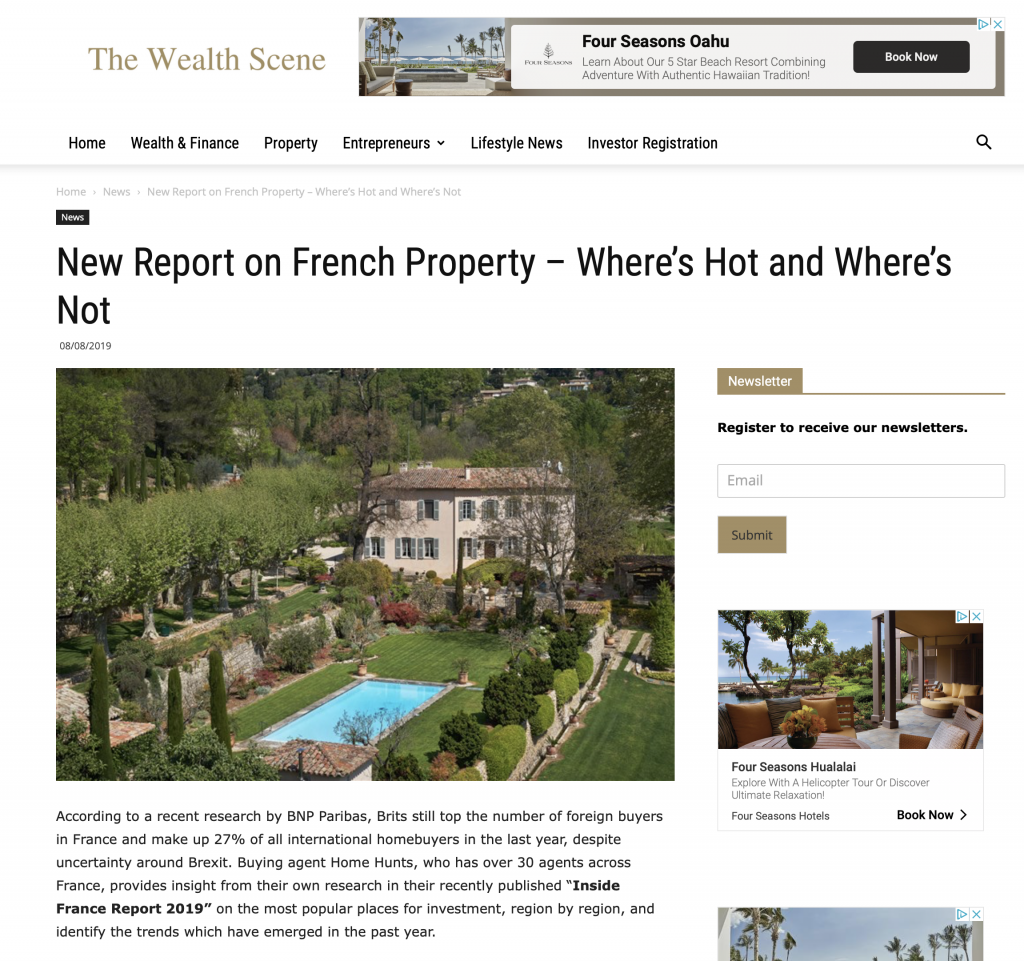 So which areas do Brits favour, and which towns are most attractive for investors?
Here is what they found:
The Riviera is on the way up and prices are rising, with Cannes and Nice in particular offering the best investment potential. This is due to several factors, including less restrictions in the number of days owners can rent out their property in Cannes, a wide range of events held throughout the year, and a new tram linking Nice Airport to the city -all of which help guarantee a strong rental return all year around.
The Var is also rising in popularity, with Cotignac and Fayence -where houses average around €2,600m2- in the hottest locations. This is where buyers can get more for their money and benefit from a laid-back lifestyle in places that are lively all year around, yet also have the Riviera on their doorstep.
Arles is an up-and-coming town and is particularly attractive for those looking for long-term investment opportunities. Prices increased by 4% over the last year and are expected to keep rising thanks to several planned developments. The town's strong links with history and art guarantee buyers a strong rental return, and it was voted one of the best places to visit in 2019 by Conde Nast Traveller Magazine.
Southwestern France is still very popular, especially rural areas such as Dordogne, Lot-et-Garonne, and Gers. Prices have remained stable and buyers find they can get more for their money, leading Home Hunts to expect sales to increase in the second half of 2019. The area offers a wide choice of lifestyles, making it ideal for those wanting to relocate permanently, as well as easy access to Toulouse and Bordeaux (where prices rose by 7.8% in the past year).
Paris is experiencing a boom and has benefited from Brexit, with many buyers from outside the EU now choosing it over London as their European base. Property prices have increased by around 5% in Paris and Île-de-France, with four locations constantly the most sought-after: the Golden Triangle (in the 8th and 16th arrondissement); the Left Bank in the 6th and 7th arrondissements; the 18th and 17th arrondissements near Monceau Park; and Le Marais in the 4th. Demand for hausmannian-type building apartments is particularly high.
Tim Swannie, Director and Co-Founder of Home Hunts, shares his thoughts on the following findings:
The French Property Market remained stable despite Brexit, thanks to an increase of European and Non-EU investors
"We found that despite the understandable reduction in the number of UK investors, buyers from other parts of the world filled that gap. We had more interest from mainland Europe and beyond – such as China, the US and the Middle East. In fact, the April 2019 review from Notaires de France reported that the number of properties sold in 2018 was 970,000, which is practically the same as the year before, which was 968,000. It is looking as though the market will continue to offer stability and reliable returns to investors in 2019."
Brexit has led an increase in buyers looking to relocate permanently
"What is fascinating is the increasing number of Brits looking to make a permanent relocation across the Channel. We've had many couples and families trying to create a new life in France before the potential restrictions of Brexit put obstacles in their path. It is now about 75% buying holiday homes and a quarter looking to be relocated, whereas pre-Brexit this was around 85/15."
Low-interest mortgages mean it is a good time to invest in the French Property Market
"The property market is continuing to offer stability and reliable returns to investors. Interest rates in France are low and competitive at the moment so many British buyers look to take a mortgage rather than spend all of their sterling. That way they will be able to pay off their mortgages if the exchange rate strengthens in the future."