Interesting article from the Times newspapers talking about the most popular areas at the moment for British people to buy second homes…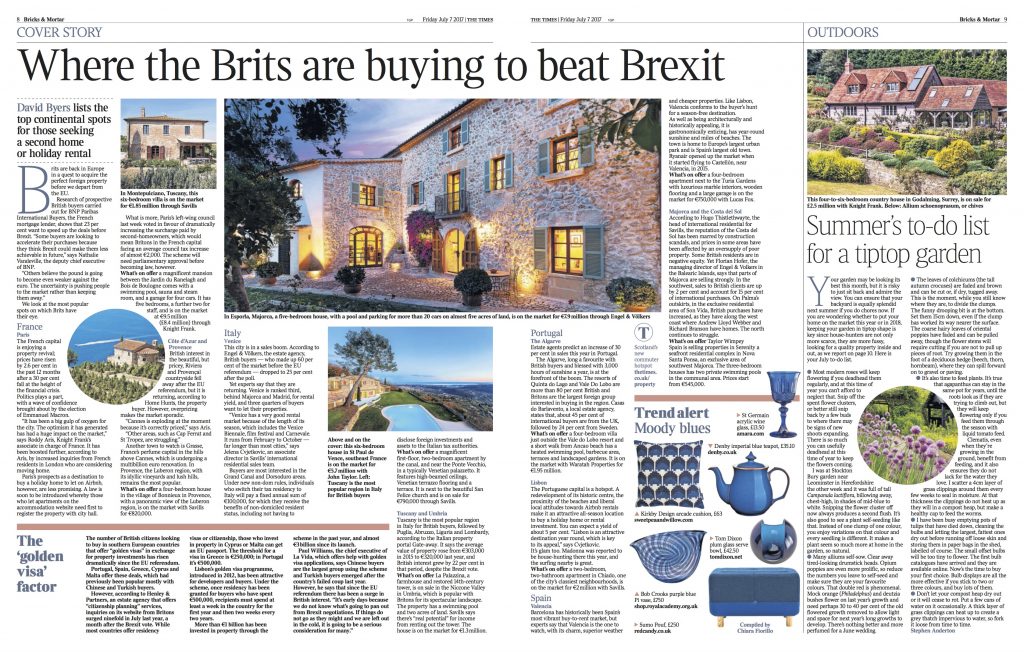 Brits are back in Europe in a quest to acquire the perfect foreign property before we depart from the EU.

Research of prospective British buyers carried out for BNP Paribas International Buyers, the French mortgage lender, shows that 23 per cent want to speed up the deals before Brexit. "Some buyers are looking to accelerate their purchases because they think Brexit could make them less achievable in future," says Nathalie Vandeville, the company's deputy chief executive.

"Others believe the pound is going to become even weaker against the euro. The uncertainty is pushing people to the market rather than keeping them away."

We look at the most popular spots on which Brits have their eye.

FRANCE
Paris
The French capital is enjoying a property revival; prices have risen by 2.6 per cent in the past 12 months after a 30 per cent fall at the height of the financial crisis. Politics plays a part, with a wave of confidence brought about by the election of Emmanuel Macron.

Côte d'Azur and Provence
British interest in the beautiful, but pricey, Riviera and Provençal countryside fell away after the EU referendum, but it is returning, according to Home Hunts, the property buyer. However, overpricing makes the market sporadic.

"Cannes is exploding at the moment because it's correctly priced,"

"Other areas, such as Cap Ferrat and St Tropez, are struggling."

Another town to watch is Grasse, France's perfume capital in the hills above Cannes, which is undergoing a multibillion euro renovation. In Provence, the Luberon region, with its idyllic vineyards and lush hills, remains the most popular.