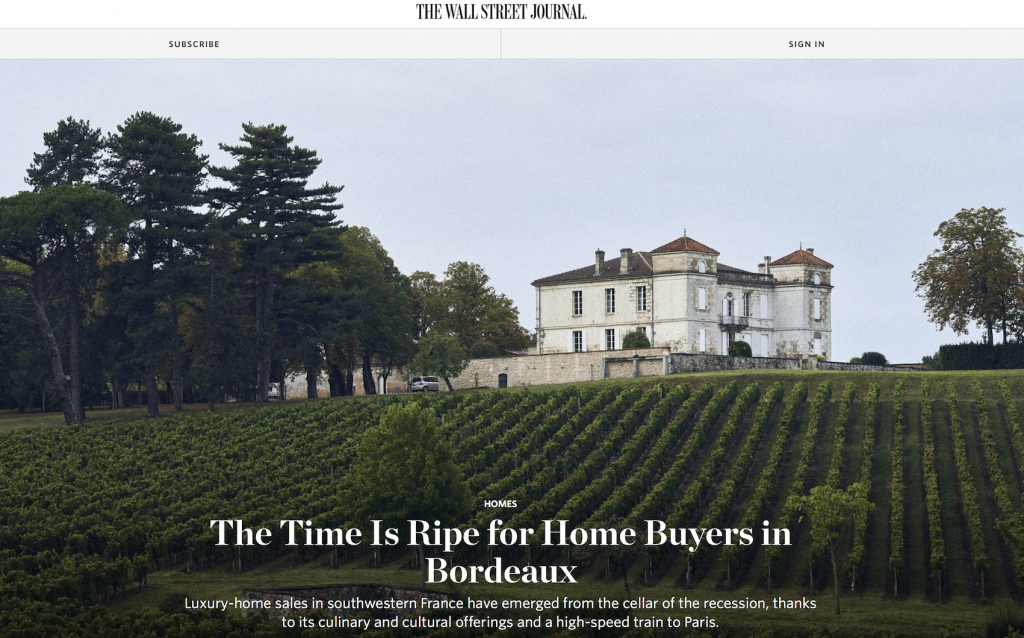 Interesting article from the Wall Street Journal focussing on the property market in and around Bordeaux in South West France. The article start with:
In Bordeaux, the wine cellar of France, 2017 is shaping up to be a vintage year for luxury property.

Median real-estate prices are up 15.5% in the first quarter of the year compared with the same period in 2016, according to the Notaires de France, which tracks national price trends. The increase is notable for a country that has barely recovered from the recession.

The bump has been helped by the launch of a new high-speed train in July, which has cut travel times for the 360-mile journey to Paris (where prices increased 5.5% in the same period) to just over two hours.
It also includes comments from HH consultant for the Bordeaux area and vineyard expert Rory Ramsden:
In southwest France, Rory Ramsden, a property finder with Home Hunts, said his buyers typically have a budget of up to $3.5 million and want a vacation home located where they might one day retire.

While central Bordeaux's property market is booming, its suburbs and surrounding towns and villages are still playing catch-up from the recession. "Prices which have been going down, are just beginning to solidify," said Mr. Ramsden. President Emmanuel Macron "has given the French more confidence to invest for the first time in a long time."

Of course Bordeaux is all about wine, and at the top end, buyers want a vineyard. Most come with a château attached, plus at least 35 acres for grape growing, plus winery, and cost from around $2.4 million.